Legendary Owen-Withee Head Coach Al Guthman retired from coaching the girls basketball team at the season's conclusion.
On Saturday, the school district hosted a retirement ceremony to honor Guthman's legacy, which includes 710 wins, 8 trips to state and 4 silver balls, 15 conference championships, and 18 regional championships.
"710 wins is something I never imagined," said Guthman. "A long time ago, I set my goal at 600 and I thought that was a hefty goal."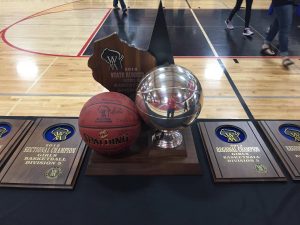 Reflecting on his 42-year career at Owen-Withee, the most successful for high school girl's basketball in state history, Guthman said, "It's been so enjoyable. I've met so many great people. I've had some great athletes and great coaches to work with."
His most special memories include coaching his daughters and each trip to state. In retirement, though he'll be busy spending more time with his grandkids, Guthman plans to still watch the girls basketball team play when he gets the chance.
Time might have gone by fast, but he won't regret his career and the many great people he met along the way.
"It's gone too fast, but it's been a real ride," he said.