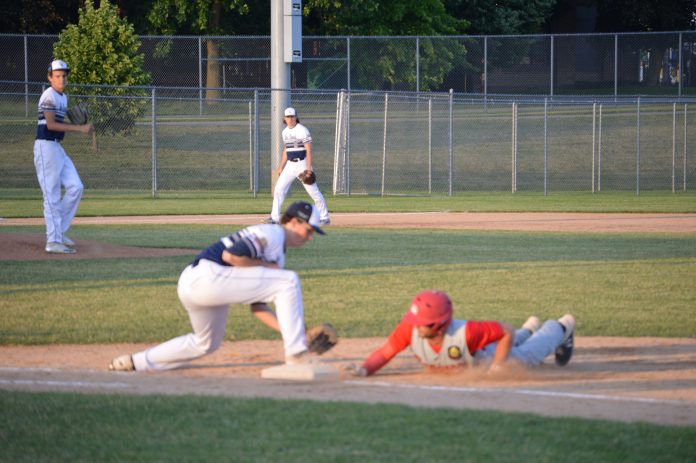 MARSHFIELD – Wisconsin Rapids plated four runs in the top of the first inning and rode the arm of Donovan Brandl from there as it blanked Marshfield 8-0 in a Wisconsin Valley Legion League meeting Tuesday night at Jack Hackman Field.
Brandl had an RBI triple, Josh Zwicke followed with an RBI single, and Wisconsin Rapids scored two more runs in the first inning to take a 4-0 lead against Marshfield starter Will Voss.
Rapids chased Voss from the game with two more runs in the third on a single by Jake Wipfli, and added two more in the fourth against reliever Preston Wagner thanks to a passed ball and an error.
Brandl did the rest, striking out 13 in six innings of work and allowing just three hits, two to Mason Coffren.
Caleb Krommenakker, Brandl and Wipfli each had two hits for the Rangers (7-2, 4-1 WVLL).
Marshfield falls to 4-6 overall and 2-3 in league play. The Blue Devils return to action Wednesday with a league doubleheader at Antigo. The twinbill, which includes a make-up from a rained out game on Sunday, begins at 5 p.m.
Rangers 8, Blue Devils 0
Wisconsin Rapids 402 200 0 – 8 10 0
Marshfield 000 000 0 – 0 3 3
WP: Donovan Brandl. LP: Will Voss.
SO: Brandl (6 inn.) 13, Joshua Schwalbach (1 inn.) 2; Voss (3 inn.) 3, Preston Wagner (2 inn.) 4, Logan Schreiner (2 inn.) 2. BB: Brandl 2, Schwalbach 0; Voss 0, Wagner 3, Schreiner 0.
Top hitters: WR, Caleb Krommenakker 2×4, 2 runs; Brandl 2×3, 3B, RBI; Jake Wipfli 2×3, 2 RBIs. M, Mason Coffren 2×2.
Records: Wisconsin Rapids 7-2, 4-1 Wisconsin Valley Legion League; Marshfield 4-6, 2-3 WVLL.