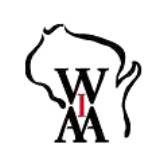 STEVENS POINT, Wis. – The Wisconsin Interscholastic Athletic Association Board of Control approved the first consideration of a conference alignment plan for eight-player football beginning in 2020 at its May meeting today.
The plan places eight-player programs into eight, six-team conferences. Each conference will be paired with another six-team league in their region to provide crossover games.
Local teams will be placed in a yet unnamed pair of conferences in the Central Region. Conference A includes Gilman, New Auburn, Alma Center-Merillian-Humbird Lincoln, Bruce, McDonell Central, and Phillips. Conference B includes Port Edwards, Greenwood, Newman Catholic, Tri-County, Bowler/Gresham, and Marion/Tigerton.
You can see the full proposal here.
Membership rules require a 40-day window for schools involved in conference alignment plans to appeal the first consideration of the Board before it takes final action. Thus, schools have until June 26, 2019, to file an appeal of the initial vote. The Board will give final consideration of the plan at its meeting on Aug. 9, 2019.