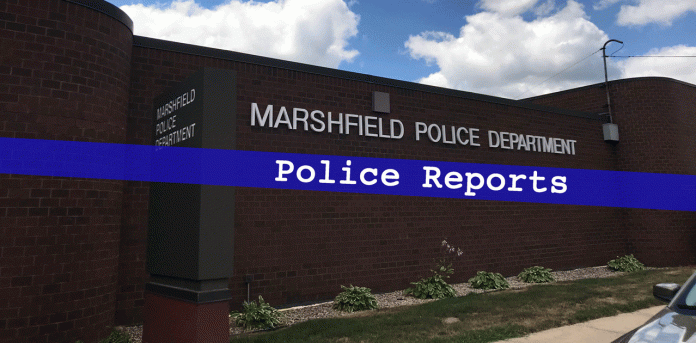 Marshfield Police Department Reports
4.4.19 at 1600: A Marshfield man reported that his ex-fiancée grabbed his arm when he was trying to leave her apartment and may have tried to punch him. Contact was made with the ex. She stated that the man let the cat out when he came into the apartment and she went outside to get it. When she came back in, he was standing in her way on the stairs trying to talk to her. She stated she told him she didn't want to talk and grabbed onto his arm to move him out of the way. She denied trying to hit him. Both parties were warned not to have any contact with each other. No charges were filed, as this did not meet the criteria for a domestic abuse.
4.3.19 at 2327: A Marshfield woman reported a disturbance outside her apartment. Officers responded and learned the alleged suspect had left the scene in a large red diesel pick-up truck. After further investigation, the identity remains unknown. The complainant stated that she has had recent arguments with her neighbor, and she might be involved. Contact was made with the neighbor and she denied any involvement. Both parties were advised to attempt to avoid each other due to the recent events.
4.3.19 at 1510: Officers received a complaint of a vehicle driving reckless through Wildwood Zoo. A traffic stop was made on the vehicle. The odor of marijuana was coming from the vehicle and a search was conducted. Marijuana and drug paraphernalia were found in the vehicle and the male driver was arrested. The male was booked at Marshfield PD and released. Charges were requested through Wood County DA office.
4.3.19 at 1727: An anonymous person reported drug paraphernalia within the residence inhabited by a small child and his 38-year-old mother. Upon police contact at the residence, a 33-year-old Marshfield male answered the door. The male allowed a consent search during which no drug items were located. Part of the male's bond condition is not to have contact with the residence, which is where the search took place. Charges of misdemeanor bail jumping will be directed to the Wood County D.A.'s office.
4.3.19 at 1241: On 9.29.18, a store reported two retail thefts by the same individual on multiple dates. Ultimately, a 52-year-old Pittsville female was arrested for retail theft. The female was on probation and Probation and Parole placed a hold on her. After booking at Marshfield PD, she was transported to Wood County Jail.
4.2.19 at 0910: During a traffic stop K9 Rika indicated a controlled substance within a vehicle. Following a search, a 17-year-old male was arrested for possession of THC. He was booked at the Marshfield PD, then released. He was issued citations for Possession of THC, Possession of Tobacco, and Operating Left of Center.
4.2.19 at 2029: Crisis Intervention requested a welfare check on a 29-year-old Appleton male. The male made statements of self-harm and appeared to be under the influence of alcohol. The male was on felony bond out of Outagamie County that required absolute sobriety. When he was informed that he was under arrest he resisted by not following officers' orders to the extent that he needed to be carried out of the residence. The male was transported to Wood County Jail. Charges will be sent to the D.A. for Felony Bail Jumping and Resisting Officers.
4.1.19 at 1900: Walmart Loss Prevention observed a 17-year-old juvenile female and a 24-year-old female, both from Neillsville, place several items into a purse and attempt to leave the store without rendering payment. Both women were taken into custody for retail theft. The 17-year-old was cited and released to her mother. The 24-year-old was booked, and charges were referred to the Marathon County D.A.'s office, as that was her second retail theft within four days and the same store.
3.31.19 at 1100: A 37-year-old Marshfield man was arrested for domestic disorderly conduct and transported to Marshfield PD for booking. The man was unable to post the $150.00 bond but signed the conditional release contact prohibition agreement form. The victim did not sign the waiver of domestic abuse contact prohibition form. The man was transported to Wood County Jail and relinquished to their staff without incident. A request for a charge of domestic disorderly conduct is being sent to the Wood County D.A.
3.31.19 at 1425: A Marshfield male came to the Marshfield PD to report that his 20-year-old son stole $400.00 from his wallet the previous night. The 20-year-old male admitted to taking the money from his father. The 20-year-old was taken into custody, booked, and then transported to Marathon County Jail.
3.30.19 at 1334: A 19 year-old Marshfield woman reported that she had been involved in a physical altercation that resulted in a broken finger. The subject, a 20-year-old Marshfield man, had a no contact bond condition with the woman. The man was arrested for domestic violence, battery and bail jumping. He was transported to Wood County Jail.
3.30.19 at 1338: A Marshfield male reported that he kicked his roommate, a 20-year-old Marshfield female, out of his apartment over the weekend. The male stated that he was looking through his belongings and noticed that he was missing a set of car keys and a bottle of cologne. He believes his former roommate took the items. The responding officer did contact the former roommate and she denied taking the items and being in possession of them. No further action was taken.
3.29.19 at 1325: Officers received a complaint regarding an incident that occurred at a residence in Marshfield. The Child Protective Service report noted that screaming was heard coming from the residence as well as a loud thud. Contact was made with a 24-year-old Marshfield female who advised that she was in a verbal dispute with a 28-year-old Marshfield male but nothing physical had occurred. The female also stated that her 3-year-old child likes to run around the house and in the process tends to knock over objects.
3.29.19 at 1715: Police responded to window damage at a business. No property was taken from the business and there didn't appear to be any other signs of damage or attempted entry anywhere else on the premises.
3.28.19 at 2154: Walmart Loss Prevention observed a male suspect take two pairs of men's dress shoes and take a clearance tag from a different item to go through the self-checkout and deduct the listed amount for the price of the shoes. The man then left the store after paying the altered price. When contact is made the man will be cited.
3.25.19 at 1630: A Marshfield woman reported that a Marshfield male was sending her messages in the hopes that she would relay the messages to the male's ex who has a restraining order against him, however, the woman did not relay any of the messages to the male's ex. After reviewing a copy of the restraining order and consulting with the D.A.'s office, it was determined the male would not be charged with violating the order. The male was advised to cease future attempts of contact and to have a third party contact his ex on his behalf.