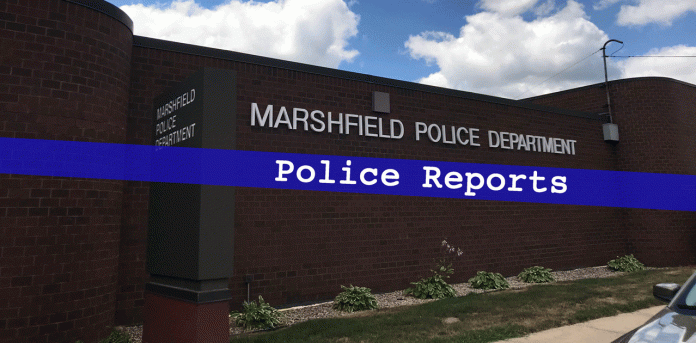 4.11.19 at 1839: A Marshfield woman reported that a 34-year-old Marshfield male was making suicidal statements. Contact was made with the male who was found at the woman's residence, which is a violation of his bond. The male was taken into custody and transported to the Wood County Jail.
4.10.19 at 1808: A Marshfield woman reported that a semi-tractor and trailer turned North bound on Maple Ave from Veterans and damaged the railroad crossing and traffic sign. She was able to describe the truck. Upon investigation, the truck turned onto Arnold en route to N Central Ave. Officers checked the area and the city line was unable to find the vehicle. There was no damage to the railroad crossing but the No Trucks Allowed To Turn Here sign was knocked off its base. Officers are not able to identify the vehicle currently.
4.9.19 at 1300: A Marshfield woman contacted police after she received a phone call from an unknown female stating that she had a delinquent account through Best Buy in the amount of $3,415.08 that needed to be paid. The female on the phone was unable to answer any follow up questions which caused concern from the Marshfield woman. She then contacted Best Buy directly and found that she has no past due debt that needs to be settled. The woman wanted to alert the police of the attempted fraud. Further phone contacts have been attempted with no success with the unknown female.
4.7.19 at 0625: Marshfield Police and EMS were dispatched to a location in Marshfield for an unresponsive 69-year-old Marshfield male. The male was found to be deceased. The Wood County Coroner's office was contacted, and an investigation was conducted.
4.7.19 at 1705: A 35-year-old Marshfield woman called to report that her 17-year-old son had left the residence without permission and had also taken her vehicle. Contact was made with the son and he was instructed to return to the residence with the vehicle, which he did. A discussion was conducted regarding a verbal dispute regarding household rules and expectations as well as other issues impacting the son. No further action was taken.
4.6.19 at 1000: A Marshfield woman reported a disturbance between her and her fiancé, a 56-year-old Marshfield male. Ultimately the male was arrested for and will be charged with Intimidation of a victim, Felony Bail Jumping, Disorderly Conduct, CDTP and Domestic Abuse. He was taken to the Wood County Jail.
4.6.19 at 2319: A Marshfield woman reported that a vehicle drove across the terrace on S Maple Ave and hit a stop sign and drove east on E 3rd Street. Another complainant, a Marshfield man, reported that a red pickup truck may have struck a white car on S Maple Ave and the red truck drove across the terrace and struck a stop sign and left the area on E 3rd Street. The white car drove North on S Maple Ave and left the area. Neither vehicle could be found, and the City Garage fixed the stop sign on 4-7-19.
4.5.19 at 1530: A Marshfield man reported receiving unwanted messages from a 41-year-old Marshfield woman. The female was spoken with via telephone and both parties were advised to cease all contact with one another.
4.5.19 at 1500: A Marshfield woman called to report a physical altercation taking place at a location in Marshfield between a 39-year-old male and a 21-year-old male both from Marshfield. The fight had ceased prior to officer's arrival. The subsequent investigation revealed that the 39-year-old was upset with the 21-year-old for smoking in front of his business. The 39-year-old knocked the cigarette out of the 21-year-old's mouth and then slapped the 21-year-old on the side of his face. The 21-year-old did not want to press charges. Both parties were warned for disorderly conduct.
4.5.19 at 1130: An electronic sign was damaged at Marshfield City Hall. The sign was located adjacent to the Chestnut Ave entrance to the City Hall parking lot. It was reported that a dark blue PT Cruiser was seen driving into and striking the sign and breaking it from its place in the ground. The PT Cruiser reportedly drove away from the scene after striking the sign. No other vehicle or driver information was given.
3.27.19 at 1135 (Reported): An 18-year-old Marshfield male called to report being scammed out of $900. The man stated his PayPal account was locked, or believed it was. After contacting an alleged PayPal rep, the man was informed he needed to use Google gift cards to pay to have the account reactivated in order to retrieve the remaining $50 on his account. This occurred three times totaling $900 that the man ended up sending to the unknown contact. PayPal was advised and stated they do not retrieve accounts by payment of Google gift cards. The man's bank account and credit card were notified to monitor. No further action was taken.
3.28.19 at 1745 (Reported): A Marshfield woman called to report her vehicle had very minor passenger side brake light damage consistent with being backed into. Reviewed video surveillance footage found that they were unable to tell what vehicle had hit her car. No further action was taken.
3.22.19 at 1226 (Reported): A Marshfield male reported that a vehicle had struck his vehicle's side mirror and failed to stop. The man followed that driver into a Marshfield store parking lot where officers contacted the suspect. The suspect stated that he was unsure if he hit anything and stated that his eyesight was not clear. Due to the damage, a state crash report was not necessary, but a driver condition report was filed on the suspect.