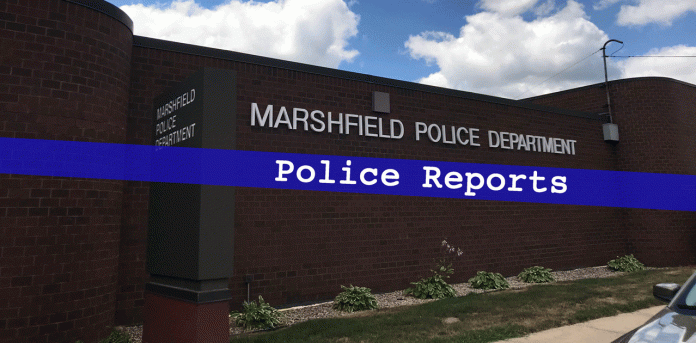 Marshfield Police Department Reports
3.28.19 at 1830: A Marshfield woman called the police saying that her estranged husband, a 52-year-old Mosinee man, had made contact with her at a location in Marshfield. The Marshfield woman stated that she had an injunction order against her husband, and she provided the responding officer a copy of that order. The woman stated that her husband left the scene as she did not communicate with him. The officer attempted to call the man but got no answer and was unable to leave a voicemail. Upon investigation, it was made aware that the man had not yet been served with the injunction. A message was left with the Wood County Sheriff's Department process server with a request to expedite the service of that injunction.
3.28.19 at 0640: A business reported that on numerous occasions, vehicles trespassed on their driveways to cut between Veteran's Parkway and McMillan Street. The complainant said this has happened while employees were working in the lot and vehicles have almost hit them or have caused damage. They stated that they would soon be posting signs prohibiting thru traffic. A POP form was also created.
3.28.19 at 0600: A Marshfield woman reported that she had received a scam email from an old email address from Data Flow Corporation. The complainant did not open the email or any attachments and had contacted Data Flow. The complainant is not believed to be a victim of any sort of crime currently but wanted the incident reported. I also contacted Data Flow and they reported that they have not had a security breach and the email that was used was an active email account.
3.26.19 at 2000: A 52-year-old Spencer female reported that her vehicle was struck at Walmart between 2000 hours and 2100 hours. Non-reportable damage was observed, and photographs were taken. Video footage of the incident was reviewed, and it was determined no accident had taken place at Walmart.
3.26.19 at 1400: A Samsung black Speck case was found at Dollar Tree in Marshfield. Police are attempted to determine the owner.
3.24.19 at 0100: An anonymous report came in that there was a 47-year-old Marshfield male and a 39-year-old Marshfield female arguing in the 100 block of West Cleveland Street. Officers found the male holding on to the woman. The man told officers that the woman was unable to hold herself up and kept falling. The woman was not coherent and not responsive. The man was detained, and the woman was taken to the ER by ambulance. After a short investigation it was found that the man was trying to walk the woman back home. Officers made phone contact with the woman on March 27th, where she told officers that she was very drunk and didn't remember much. She told police that the man didn't hit or harm her on the walk home. She reported that she was so intoxicated, and it was very difficult to walk without falling.
3.24.19 at 1315: A garage fire was reported at 804 S Palmetto Ave. Marshfield Fire and Rescue provided service to the fire. Marshfield Fire continued the investigation.
3.23.19 at 0147: A 22-year-old Marshfield woman was involved in a physical altercation at Elixir Nightclub. The woman was taken to the ER at Marshfield Clinic. The woman suffered from a concussion and temporary loss of consciousness. Upon investigation a 27-year-old female was arrested for substantial battery. Three other individuals were also cited for disorderly conduct.
3.23.19 at 0850: A Marshfield male reported a red luggage bag laying in the brush along the ditch on Lincoln Ave. The bag contained various female clothing items but no solid leads to the owner. Shortly after police took possession of the bag, the Marshfield male who first reported seeing the luggage called the Police Department again to report that a young male with dark crew cut hair, thin build and in his early to mid-20's wearing a dark blue or black jacket with dark pants had stated his name and knocked on his door to inquire about the bag, stating that it had belonged to his girlfriend. The male who reported the bag stated that the PD had it. The bag and its contents were photographed and logged, including one item of drug paraphernalia which was a smoke filter and will not be returned.
3.22.19: An anonymous complainant called the Marshfield Police Department and said a male subject with a felony warrant was hiding at 1306 Blodgett Street. Officers had probable cause to believe he was at the residence. Upon investigation, officers found the man hiding at the residence and he was taken into custody. He was booked at the Marshfield PD and then transported to the Wood County Jail.
3.21.19 at 1356: An adult calico cat was found in Braem Park and caught in a small claw trap. Complainant took the cat to MAPS and left his information with the staff. MAPS notified the police officer that the cat was injured and would need medical attention. The cat was then brought to Castlerock Vet and found that the cat's front left paw was fractured. Once the cat was given the OK, she was brought back to MAPS. The officer was unable to locate a collar or microchip.