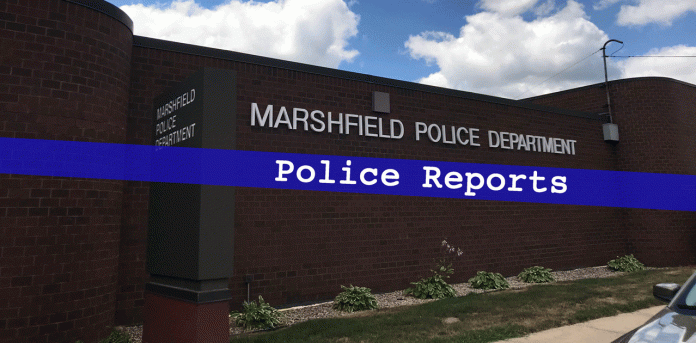 Marshfield Police Department Police Reports
3.20.19 at 1155: A Marshfield man reported receiving multiple, non-stop spam phone calls form various phone numbers. He stated that at one point he did give one of the caller's personal information including his driver's license number and social security number. The man reported that he has not yet been notified of any identity fraud attempts but was given suggestions on how to further protect his identity and stop the unwanted phone calls.
3.20.19 at 1408: A 44 year-old Arpin male was arrested during a traffic stop after he attempted to consume a clear plastic bag of an unknown substance and disobey officer's verbal commands. Charges of Possession of Methamphetamine, Drug Paraphernalia, Felony Bail Jumping, and Resisting/Obstructing an Officer will be request through Marathon District Attorney's Office.
3.18.19 at 0729: A complaint came in for reported child abuse that occurred at a residence in Marshfield. Contact was made with the mother, a 31-year-old Marshfield female. After speaking to the complainant and the mother, it was determined that no law enforcement action would be taken at this time.
3.17.19 at 1617: At the stated date a 47-year-old Marshfield male was arrested for a PO Hold. When the male was arrested, he requested medical clearance. At Marshfield Medical Center the male threatened to take an officer's gun to shoot himself and that he was going to slit his throat in jail. The male was also threatening to not take his prescribed medication because he wanted to die. The male has been treating medical conditions, so medication was crucial. Crisis intervention was contacted, and a Crisis Worker indicated to have the jail put the male on suicide watch.
3.16.19 at 1442: A Marshfield woman reported that an unknown person in the Eau Claire area (according to customer service) took out a cell phone plan in the victim's name and used her social security number. She contacted AT&T which is where she received the information. Victim contacted her financial institutions and will contact the credit agencies. At this time her identity was the only thing stolen from her. She is not at a financial loss.
3.15.19: An officer observed a male driver at McMillan and Veterans in the city of Marshfield. Due to past contact with said driver, the officer knew his driving status was revoked. It was also learned through dispatch that the male driver had a valid Wood County DNA sample warrant. The driver was arrested and transported to the Marshfield PD for booking, and later released.
3.15.19 at 1516: Officers attempted to take a 26-year-old Marshfield man into custody at his residence on felony warrants. The male attempted to flee the residence and was subsequently taken into custody. The male was booked and taken to Wood County Jail. Charges were requested through the Wood County District Attorney's Office.
3.19.19 at 1820: Complaints of a 34-year-old Marshfield male causing a disturbance by being loud and disruptive. The incident involved the man stepping towards one of the complainants and being pushed. The man was told that he is not to be on the property in the future. The 34-year-old male was cited for Possession of Drug Paraphernalia which was discovered during the contact with the police officer.
3.12.19 at 1608: A Marshfield woman requested police assistance after she had received third party information that a 17-year-old Marshfield female had been inquiring where the victim lived with the intent to harm her. At the time of the report, the 17-year-old female had not made any contact with the victim's residence but was concerned that future contact could occur. Contact was made with the 17-year-old female who claimed similar accusations against the victim, stating that this situation started over both females liking the same boy at school. Both females were advised to avoid future contact with each other, and both agreed with the request.
3.12.19 at 1348: A Marshfield woman reported that she was recently contacted by Check N Go and was told that she had an unpaid loan from 2012 that she needed to start paying off. She also tried to get approved for a credit card from Credit One and was told that they had already shipped a card to someone who had used her social security number in California. The case will be forwarded to the Detective Bureau for further investigation.