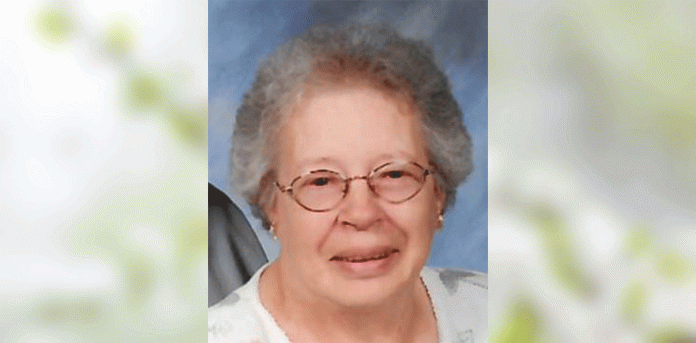 Shirley L. Wichlacz, age 83, of Wausau, passed away on Thursday, March 28, 2019 at Benedictine Living Community in Wausau.
A Funeral service will be held at 12 Noon on Monday, April 1, 2019 at Trinity Lutheran Church, 15809 County Road FF, Merrill, with Rev. Andrew DeGier officiating. Shirley will be laid to rest in Athens Lutheran Cemetery. Family and friends are invited to gather on Monday at the church from 10 AM until time of services. The honor of pallbearer belongs to her grandchildren: Charly Hessel, Crystal Staley, Kimberly Stieber, Rachel Vanish, Alan Vilter, Tiffany Vilter, Jonathon Wichlacz, Raylynn Zabawa. Honorary pallbearer will be Cheyenne Wichlacz.
Shirley was born July 18, 1935 in Siren, Wisconsin to Fredrick and Margaret (Powell) Mattson. She was united in marriage to Eugene Wichlacz on September 20, 1952 in Pine City, MN. Sadly, Eugene passed away July 20, 2012. Shirley was a homemaker and dedicated mother, operated a dairy farm along with her husband Eugene and also worked in George's Restaurant in Wausau and cooked for day care facilities in the area.
She was a member of Trinity Lutheran Church and a former member of Athens Homemaker's Club.
Her children remember Mom as being the world's greatest cook, always making great dishes without the use of a recipe book, always knowing what ingredient was missing or needed. She will be missed.
Shirley is survived by her children Michael (Lois) Wichlacz of Danbury, Allen (Lisa) Wichlacz of Marathon City, Laurie (Mark) Woller of Merrill and Timothy Wichlacz of Bayfield, CO, son-in-law Leonard Feltz of Dorchester, 16 grandchildren, 30 great-grandchildren and 1 great-great-grandchild.
She is preceded in death by her parents Fredrick and Margaret, her husband Eugene, her son Arvid in infancy, her daughter Brenda Feltz, her granddaughter Nisa, and her beloved canine companion Max.
Shirley's arrangements are under the care of Life Tributes Funeral Home-Spencer. Please visit www.lifetributesfuneralhome.com to share thoughts and condolences.