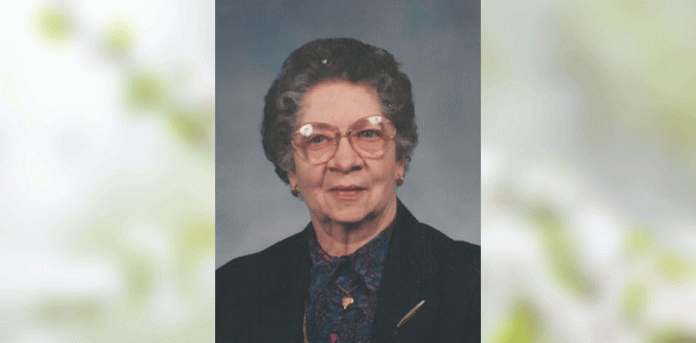 Mabel R. Leick, 98, Rozellville, passed away peacefully on Tuesday, February 12, 2019 at Three Oaks Health Services, Marshfield.
A Mass of Christian Burial will be held at 11:00 am on Monday, February 18, 2019 at St. Andrew's Catholic Church, Rozellville, where the visitation will be from 9:30 am until service time. Rev. Sengole Vethanayagam will officiate. Burial will take place in the parish cemetery and grandchildren will serve as pallbearers. Rembs Funeral Home is assisting the family.
Mabel was born on January 27, 1921 in Marshfield, to Richard and Louisa (Buhrow) Kuse and graduated from Sunshine School in Auburndale. As a young lady she worked at Colby Hotel until her marriage to Harry J. Leick on October 10, 1940 at St. Andrew's Catholic Church, Rozellville. He died on October 5, 1984. She and her husband farmed in the Town of Day until their son Daniel took over the farm. She also worked seasonally at Figi's in Marshfield.
She enjoyed embroidery, knitting, crocheting, sewing, reading, homemaking and taking care of family. She was a member of St. Andrew's Parish Council of Catholic Women and worked for weddings at St. Andrew's Hall for many years.
She is survived by a daughter-in-law, Irene Leick of Auburndale, and her children, Dennis (Kathy) Leick of Marshfield, Dan Leick of Stratford and Debra (Mike) Kaiser of Mosinee. She is also survived by 7 grandchildren, Kevin (Brenda) Leick, Gayle (Dave) Wisnefske, Dennis (Jonelle) Leick, Kent (Emily) Leick, Scott (April) Kaiser, Sara Kaiser, and Stacy (Matt Wogernese) Kaiser, and 10 great grandchildren, Katie, Mathew, Ashley, Allison, Colin, Braden, Chloe, Tucker, Noah and Aiden. She is further survived by 2 sisters, Cora Carolfi and Alice Hanson and many nieces and nephews.
She was preceded in death by her parents, her husband, a son David, sisters, Gladys Schneider and Betty Wiersig and brothers, Richard, Harry, Daniel, Marvin and Harold.
The family wished to thank the staff at Three Oaks Health Services for the loving care provided.
Condolences may be sent online to www.rembsfh.com