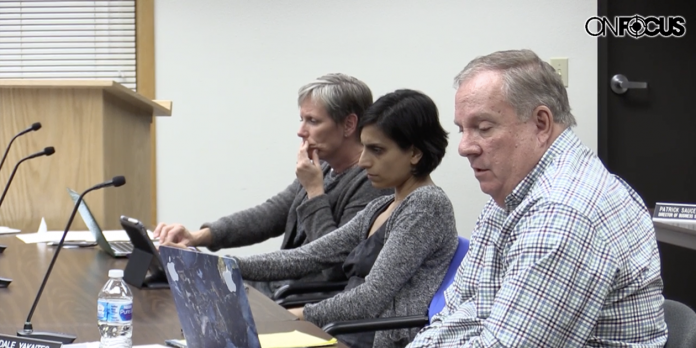 Marshfield, WI (OnFocus) The Marshfield School Board approved increases to the cost of school lunches for the 2019-20 school year during its meeting Wednesday.
"The price increase covers the costs of general inflation, food, supplies, benefits, and salaries," said Board Member Dale Yakaites. "There's a lot of control by the DPI. They also require that all districts increase at least 10 cents their lunch fees per year until our average meal cost matches the difference between the federal free and the federal paid lunch reimbursement rate."
The increases will include a 5 cent increase for middle and high school breakfast. Elementary lunch costs will increase from $2.60 to $2.70, middle school from $2.75 to $2.80, and high school from $2.90 to $3.00.
In other action, the school board approved changes in the high school handbook relating to cell phone use or PCD's (Personal Communication Devices).
"We did have a good discussion on the policies related to cell phones," said Board Member Karen Shulman. "We had tasked the high school administration to put together a task force group of how the students and staff feel if cell phone use is a problem, where the problem is, and what are the recommendations."
"The recommendations came back that we should probably consider revisions to the student handbook and crack down on the use of PCD's during instructional times effective this coming school year," said Shulman.
The new language states, "PCD's should be powered off and stored in student's lockers during educational times so the PCD is out of sight and not a distraction to any learner. The use of PCD's in the educational setting is strictly prohibited. This includes but is not limited to prior to class starting and throughout the entire class period. Students who fail to follow the PDC expectations will be required to turn over the PCD to any MHS staff member or substitute. All confiscated PCD's will be turned over to administration in the front office."
"There's a lot of discussion about how we already had a policy but that it wasn't being enforced," said Shulman. "Mostly we are just beefing up language trying to get education out that this is an important part of keeping distractions out of the educational environment. They'll be using it before school, after school, lunch hour, breaks, wherever, From the time you hit the door, to the time you leave the classroom, we want to minimize the distractions."
The policy will take effect for the 2019-20 school year and will be reviewed by the Policy Committee in November.