Marshfield, WI (OnFocus) A group is headed out to Nebraska this week to help farmers devastated this month by a barrage of blizzards and floods.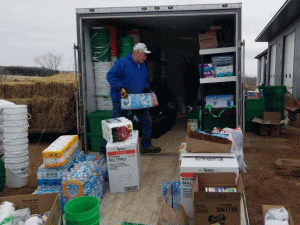 Kevin and Kendra Schmidtke spearheaded a collection of much-needed supplies, from hay to horse feed to hygiene items, through area businesses for the NEIA Drop Spot in Elkhorn to help with relief efforts. They started out with two trailers, which thanks to community response grew to one trailer's worth of supplies and six of hay.
The couple's main priority was to help out the farmers. "My wife was on Facebook and she saw the pictures of the cattle buried in the snow, and she said, 'we gotta do something,'" said Kevin.
Thanks to historic flooding, Nebraska farmers have contended with washed-out fields and buried cattle. The Nebraska National Guard has been brought in to help with relief efforts, including dropping hay from helicopters to animals stranded by water.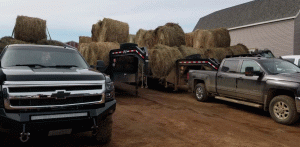 The couple will leave 4 a.m. on Wednesday with their children and friends to haul the supplies down to Elkhorn, about a 9-hour trip. Donations were dropped off at local checkpoints with additional help from the Auburndale FFA, which donated hay, supplies, and proceeds from its 50/50 raffle that were collected at its pancake feed on Sunday. One man even donated 150 fence posts.
Until someone's been knocked to their knees, Kevin said, it's difficult to know exactly how it feels to have a livelihood threatened by disaster. It's a feeling the Schmidtkes are familiar with, having watched their business shed go up in smoke before their eyes three years ago.
"In a heartbeat you can lose everything you worked so hard for," he said. "We've been kicked down ourselves a couple times, and said 'let's do what we can do.'"
The support of family and friends meant everything in their time of need, and now they want to pay it forward.
"You just try to help where you can," said Kevin.