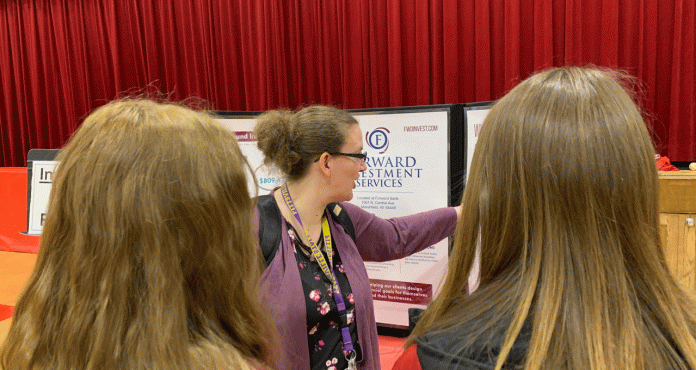 Spencer, WI (OnFocus) Eighth Graders from area school districts got an illuminating look at what it takes to manage a healthy budget through MACCI's "Reality Store" program March 19.
The Reality Store assigns each student a hypothetical family situation with a set income. Within the limits of that income, students have to make choices about insurance, taxes, saving, investing, and monthly bills like rent, groceries, and childcare. Students from St. Joseph Catholic, Loyal, Greenwood, Spencer, Auburndale, Immanuel Lutheran, and Pittsville participated in the program at Spencer Middle/High School.
"I think it's eye-opening for them to see that this is what their parents are going through and this is what they'll have to deal with in 5-6 years," said Marisa Steinbach, Forward Investment Services.
The program is an opportunity for students to learn more about the impact of their career choices and improve their financial literacy. "This is a great way to bring education and business together in an environment that everybody's collaborating," said Karen Isaacson, MACCI. 'It's a lot of fun to do and very meaningful."
By the end, one of the eye-opening lessons students learn is how expensive owning a home and childcare is. They also learn more about the importance of getting a head-start on retirement planning, since compound interest boosts their investment.
Forward Investment Services, which attended the Reality Store, provides financial planning at no cost for anyone with a question.
"Saving for retirement is one of the areas that people either don't talk about, or they don't have the resources to find out information about, so we're trying to let them know that we provide that information," said Steinbach.
To introduce students to these concepts, the program requires students to put aside 1% of their income for retirement. In the real world, a person should set aside 10-15%.
"They're just getting a glimpse of how they need to prioritize their numbers. They'll come back afterwards and say, 'I don't have enough money to make my ends meet. What do I do?' And we walk them through that," she said.
Parents can start a conversation with their children about finances by asking what they learned from the program, what they liked or disliked, the pros and cons of the career they ended up with, what careers they're interested in, and if they're considering college or other post-secondary programs.
Those interested in receiving a consultation at no cost from Forward Investment Services can visit www.fwdinvest.com for more information or call 715-387-1122.