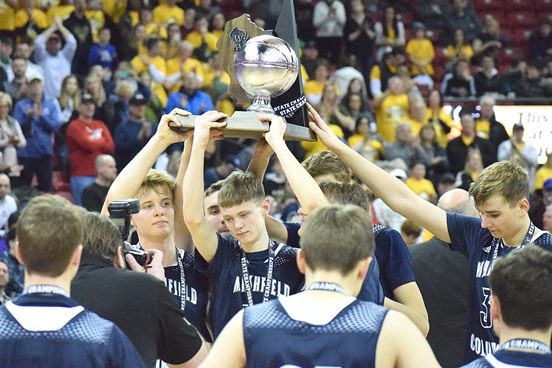 By Paul Lecker
For OnFocus
MADISON – There would be no miracles this time for Marshfield Columbus Catholic.
The Dons whittled a 20-point deficit down to four on two occasions late in the game, but they could not completely recover from a slow start and fell 77-69 to Sheboygan Area Lutheran in the Division 5 championship game Saturday at the 2019 WIAA State Boys Basketball Tournament at the Kohl Center.
Columbus Catholic (26-3) reached its first state championship game with a buzzer-beating 3-pointer from Tom Nystrom on Friday, and it looked like the Dons could be destined for another great finish.
The Dons were down by as much as 20, at 49-29, in the final minute of the first half, and trailed by 12 after a dunk from Sheboygan Area Lutheran's 6-foot-7 center Jacob Ognacevic with 2:34 remaining.
Ethan Meece, who led the Dons with 22 points, converted a three-point play, Nystrom drilled a 3-pointer, and Noah Taylor scored on a drive to the basket to quickly cut Lutheran's lead to 70-66 with 1:16 left.
Following three free throws from the Crusaders (27-2), Jarred Mandel knocked down a 3-pointer from the top of the key with 42 seconds left, again cutting the Dons' deficit to four.
That was the last of the heroics for Columbus as Ognacevic got behind the Dons' full-court pressure and converted a three-point play with 32.3 seconds remaining. He finished with 35 points and 19 rebounds in the win. The Dons missed on their next possession and that was it.
"I thought our players battled and really fought, and did everything they could to try to get gold ball," Columbus Catholic coach Joe Konieczny said. "We cut it to four with about a minute left, but just couldn't get over that hump."
Columbus had seven seniors on the roster, five of which were consistently in the starting lineup. With four conference titles, three sectional appearances, and two state-qualifying teams from that group, Konieczny said he could not be more proud.
"I'd like to thank our senior class," Konieczny said. "They did special things for us the last four years. It's tough to say goodbye to them, but they know how much I love them. I'm proud of them. I told them that only two teams get to finish the race, and they got to finish the race."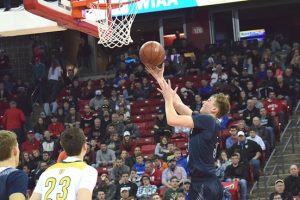 The Dons showed some nerves early, falling behind 9-0 in the opening 3 minutes as they missed on two shots and turned the ball over three times.
Columbus regrouped, however, and got as close as three at 15-12 following back-to-back 3-pointers from Nystrom and Mandel.
Things unraveled in the final 4½ minutes of the half. Leading 27-23, the Crusaders went on a 22-6 run sparted by nine points from Delvin Barnstable, including a four-point play.
The run put Sheboygan Area Lutheran up 49-29 before a late basket from Kellen Heinzen made it a 49-31 game going into halftime.
"I thought we played a poor first half," Konieczny said. "We turned the ball over a lot off the dribble, which is uncharacteristic, and we had a tough time boxing out the big fella (Ognacevic) and we really tried to key on him."
The Dons started the second half with a 14-4 run. A fastbreak layup by Taylor cut it to 53-45 with 9:56 left. Columbus made two more stops, and had two more chances to get even closer, but it could not and within four minutes the Crusaders pushed their advantage back up to 16.
Columbus was able to whittle away at it again, but just didn't have enough in the end.
"We always play to the very last minute and are always trying to win, no matter what the score is," Meece said. "It was really cool to play here. It didn't go the way we wanted, but it was cool."
In addition to Meece's 22 points and five rebounds, Taylor finished with 17 points and six rebounds, and Mandel had 13 points and eight rebounds for the Dons.
Notes: Columbus Catholic forward Bryce Fuerlinger broke the Division 5 record for most rebounds in a tournament, finishing with 34. He had a D-5 game record 25 in the Dons' win on Friday, and nine more on Saturday. He broke former Wisconsin Badgers and Sheboygan Area Lutheran player Sam Dekker's record of 29 that he set when the Crusaders won the D-5 title in 2012. Ognacevic also broke Dekker's record, finishing with 33 in the two games…Both schools were making their third state tournament appearances. The title for Sheboygan Area Lutheran is its second, going with the one the Crusaders won in 2012. They lost a semifinal game in 2014. Columbus Catholic won its first-ever state tournament game on Friday after losing in the semifinals in its previous two appearances in 2003 and 2017…Sheboygan Lutheran also set a Division 5 state tournament record for most points in a half, scoring 49 in the first half Saturday.
Crusaders 77, Dons 69
Columbus Catholic 31 38 – 69
Sheboygan Area Lutheran 49 28 – 77
COLUMBUS CATHOLIC (69): Noah Taylor 8-20 0-0 17, Will Boyer 0-0 0-0 0, Jadon Nienast 0-0 0-0 0, Tom Nystrom 3-5 0-0 8, Bryce Fuerlinger 3-6 1-3 7, Zach Olson 0-0 0-0 0, Eden Jacobson 0-0 0-0 0, Gage Stratman 0-0 0-0 0, Ethan Meece 9-14 4-6 22, Kellen Heinzen 1-2 0-0 2, Jarred Mandel 5-9 0-0 13. FG: 29-56. FT: 5-9. 3-pointers: 6-14 (Mandel 3-4, Nystrom 2-4, Taylor 1-4, Fuerlinger 0-1, Meece 0-1). Rebounds: 34 (Fuerlinger 9). Turnovers: 12. Fouls: 17. Fouled out: Meece. Record: 26-3.
SHEBOYGAN AREA LUTHERAN (77): Robby Michael 3-3 2-2 10, Graden Grabowski 4-11 0-1 8, Michael Berger 0-1 0-0 0, Delvin Barnstable 6-13 2-3 17, Jonah Jurss 0-3 0-0 0, Jacob Ognacevic 14-23 6-11 35, Casey Verhagen 2-9 1-3 7. FG: 29-63. FT: 11-20. 3-pointers: 8-17 (Barnstable 3-9, Verhagen 2-2, Michael 2-2, Ognacevic 1-1, Jurss 0-3). Rebounds: 37 (Ognacevic 19). Turnovers: 7. Fouls: 9. Fouled out: none. Record: 27-2.
Paul Lecker is publisher of MarshfieldAreaSports.com, a contributor to OnFocus Sports.