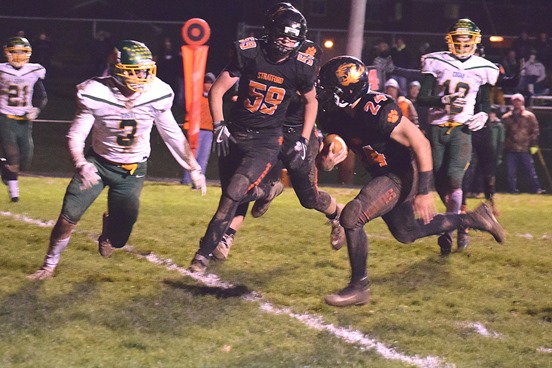 STRATFORD – The 2018 edition of the Stratford-Edgar high school football rivalry did not disappoint.
After Stratford tied the game with an epic 99-yard touchdown drive with a little more than 4 minutes to go, Edgar retaliated with a scoring drive of its own, scoring with five seconds to go to nip the Tigers 26-20 on Friday night at Tiger Stadium.
Both teams entered the regular-season finale with unbeaten Marawood Conference records, and with the victory, Edgar wins its second-straight conference title and ninth in the last years.
Edgar rode the arm of senior quarterback Karson Butt, who threw touchdowns passes of 43 and 68 yards in the first half, and the game-winning 14-yarder to a wide open Mason Stoudt on the right side of the end zone in the final seconds. He finished 11 of 15 for 223 yards and the three scores.
"He's been good for three years," Stratford coach Jason Tubbs said about Butt. "I'm glad I don't have to see him again."
Edgar (9-0 overall, 6-0 Marawood) scored on its first two possessions, with Butt hitting Kaleb Hafferman for a 43-yard score on its opening drive. Passes of 22 yards to Brock Handrick and 37 yards to Brayden Baumgartner set up a 3-yard touchdown run by Ty Guden to make it 12-0 with 1:57 to go in the first quarter.
Stratford (7-2, 5-1 Marawood) counted with a 63-yard drive that bridged the end of the first and beginning of the second quarters. Eli Drexler scored on a 4-yard run to cut the Wildcats' lead to 12-7.
It didn't take long for Butt to get back at it as he hit Drew Guden for a 68-yard touchdown pass on a fly pattern down the right sideline, putting Edgar up 20-7.
The Tigers kept at it with their running game, rushing 11-straight plays before Kade Ehrike scored from the 11 on fourth-and-3 to make it 20-14, which it remained until halftime.
Neither team scored in the third quarter before the Tigers' offense took over in the fourth.
After a punt by Stoudt pinned Stratford at its own 1-yard line, Stratford put together a mammoth drive.
The Tigers ran the ball on 17-straight plays, were helped by two penalties, and scored on a 3-yard run by Ehrike with 4:05 to go. The extra point kick was missed, however, leaving the game tied 20-20.
Ehrike gained 62 yards on 12 rushes on the drive and finished with 210 yards on 33 carries.
"I'm proud of our offense," Tubbs said. "They moved the ball all night against a really good defense and got in. I thought we had a chance to win the game and get off the field. We missed the PAT, but they make plays, fall down and still make the catches. Hats off to Edgar, they made big plays tonight and we couldn't stop their big plays."
Edgar took over on its own 24 and picked up five first downs, one coming on a third-and-3 pass from Butt to Handrick, and another on fourth-and-9 to Handrick that picked up just enough.
Butt then hit Handrick again for 15 yards to get the ball to the 14 as Edgar used its final timeout with 12 seconds left. After lining up for what would have been a 31-yard field goal attempt, and a Stratford timeout, the Wildcats decided to go for it.
Butt scrambled around in the backfield before finding a wide open Stoudt in the end zone for the winner.
"It's a high school kicker," Tubbs said of the timeout call. "(Tried) to get in his head a little bit maybe. Hats off to them for coming out (and going for it), but we had our defensive guys were out there, you just have to make plays, and we just didn't make plays when we needed to."
Stratford will learn its first-round WIAA playoff opponent and Division 5 bracket on Saturday afternoon. The playoffs begin Friday, Oct. 19.
Wildcats 26, Tigers 20
Edgar 12 8 0 6 – 26
Stratford 0 14 0 6 – 20
First Quarter
E – Kaleb Hafferman 43 pass from Karson Butt (run failed), 9:24.
E – Ty Guden 3 run (pass failed), 1:57.
Second Quarter
S – Eli Drexler 4 run (Reed Curtis kick), 9:38.
E – Drew Guden 68 pass from Butt (Hafferman pass from Butt), 9:19.
S – Kade Ehrike 11 run (Curtis kick), 3:19.
Fourth Quarter
S – Ehrike 3 run (kick missed), 4:05.
E – Mason Stoudt 14 pass from Butt (run failed), 0:05.
Team Statistics
First downs: Edgar 9; Stratford 16.
Rushing (att-yards): E 20-63; S 55-261.
Passing (comp-att-yards-int): E 11-15-223-0; S 1-2-3-0.
Total yards: E 286; S 264.
Penalties (no.-yards): E 4-48; S 1-5.
Fumbles (total-lost): E 0-0; S 4-2.
Punting (no.-avg.): E 3-29.7; S 3-34.0.
Individual Statistics
Rushing: E, Kaleb Hafferman 8-28, Ty Guden 6-16, Kyle Brewster 3-15, Mason Stoudt 1-5, Karson Butt 2-minus 1. S, Kade Ehrike 33-210, Eli Drexler 9-24, Matt Handrick 3-13, Devin Dennee 4-10, Max Schwabe 5-2, Derek Marten 1-2.
Passing: E, Butt 11-15-223-0. S, Schwabe 1-2-3-0.
Receiving: E, Brock Handrick 6-66, Stoudt 2-9, Drew Guden 1-68, Hafferman 1-43, Brayden Baumgartner 1-37. S, Marten 1-3.
Fumble recoveries (defense): E, D. Guden, Handrick.
Punting: E, Stoudt 3-29.7. S, Chase Flink 3-34.0.
Records: Edgar 9-0, 6-0 Marawood Conference; Stratford 7-2, 5-1 Marawood Conference.
Paul Lecker is publisher of MarshfieldAreaSports.com and a contributor to focusonmarshfield.com.