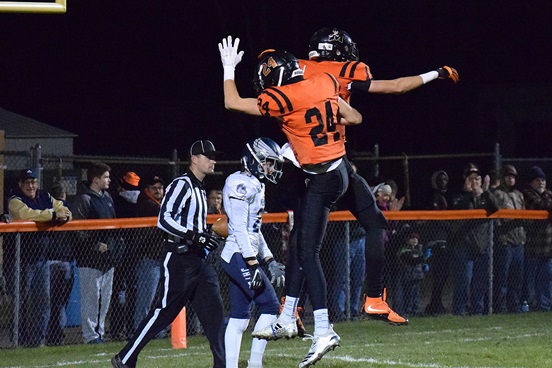 By Paul Lecker
For focusonmarshfield.com
The 2018 WIAA football playoffs continue Friday, Nov. 2, with Level 3 state quarterfinals across the state.
Four games each in seven divisions will be played Friday with winners moving on to Level 4 state semifinals Nov. 9 or 10. The 2018 WIAA State Football Championships scheduled for Nov. 15-16 at Camp Randall Stadium in Madison, where seven division titles will be settled.
Six area teams remain alive for a state finals berth heading into Level 3 games. Here is a look at the matchups:
Division 2
Pulaski Raiders (10-1) at Marshfield Tigers (11-0)
When and where: Friday, Nov. 2, 7 p.m. at Beell Stadium, Marshfield Middle School.
About the Raiders: Pulaski turned to quarterback Dylan Hendricks time and again last week as he ran 45 times for 308 yards and three scores, including the final one with just 1:55 left in the game as the Raiders edged River Falls 27-21 in a Level 2 game on the road. Hendricks leads the state in rushing with 2,468 yards and has scored 28 TDs this season.
About the Tigers: Marshfield will be playing its final varsity game at Beell Stadium on Friday after holding off Menasha 26-20 in a Level 2 game on Oct. 26. Marshfield raced out to a 20-0 lead on the strength of two Ryan Krueger touchdown passes before the Bluejays made it close late with a pair of scores in the final 3 minutes of the game. The Tigers were held to just 107 rushing yards and a 3-yard per carry average, but had 156 yards passing and forced the game's only turnover.
From Marshfield coach Denny Goettl: "Pulaski has a very physical running quarterback. He is there whole offense, it seems like. We obviously have to stop him and the rest of his offensive cast. They are athletic and solid. They don't seem to make many mistakes and they control the ball when on offense. We have to score early and often to give ourselves a chance. We have to play our game and make adjustments when needed. It should be a good game."
Division 5
Westby Norsemen (10-1) at Spencer/Columbus Catholic Rockets (10-1)
When and where: Friday, Nov. 2, 7 p.m., at Ted Fritsch Field, Spencer High School.
About the Norsemen: Westby, champions of the Coulee Conference, rolled past Elk Mound 35-6 in a Level 2 game last Friday. The Norsemen led 7-6 at halftime before pulling away with a 21-point fourth quarter. Ryan Daines rushed for 145 yards as Westby piled up 280 yards on the ground. Daines has 1,501 rushing and 26 touchdowns this year. Westby has scored at least 26 points in each of its games this season, and had 32 or more in each of its last five games.
About the Rockets: Spencer/Columbus raced out to a 30-0 lead and survived three-straight second-half scores from Bloomer to win its Level 2 matchup 37-18 last week. The Rockets had 378 yards rushing, including 100-yard performances from Austin Bacon (123) and Hayden Bauman (103). Quarterback Jarred Mandel added 87 yards on the ground and 84 more through the air for SC.
From SC coach Jason Gorst: "(Westby) is a very good team. We have to prevent the big pass play and limit their run game. Offensively, we need to handle their pressure early and be more aggressive in our blocking. Big plays on special teams tend to have a large impact this time of year. We need them to go our way."
Division 5
Stratford Tigers (9-2) at Kewaunee Storm (11-0)
When and where: Friday, Nov. 2, 7 p.m., at Kewaunee High School.
About the Tigers: Kade Ehrike rushed for 153 yards and two touchdowns, and Eli Drexler ran back an interception for score as the Tigers cruised past Colby 48-0 in a Level 2 matchup at home last week. Stratford added two more defensive touchdowns – a fumble return by Jaykob Mikelson and an interception return by Max Vanderhoof – in the second half to put the game away. Stratford piled up 369 yards while holding the Hornets to just 33 total yards.
About the Storm: Kewaunee, champions of the MONLPC-Large, held off Southern Door, 31-28, in a Level 2 matchup Oct. 26. Owen Kudick has rushed for more than 1,700 yards this season for the Storm.
From Stratford coach Jason Tubbs: "Kewaunee has a very athletic team with a shifty running back, very strong-armed quarterback, and tall receivers. We need to limit the big plays and keep their offense on the sidelines with sustained drives by our offense."
—
Division 6
Abbotsford Falcons (10-1) at Iola-Scandinavia Thunderbirds (11-0)
When and where: Friday, Nov. 2, 7 p.m. at Iola-Scandinavia High School.
About the Falcons: Abbotsford continued its offensive onslaught this season, scoring six first-half touchdowns in a 54-6 rout of Auburndale in a Level 2 game Oct. 26. Joe Aguilera rushed for 232 yards and four touchdowns, and Caden Decker added 117 yards and three scores for the Falcons. Abbotsford has scored 41 points or more in nine of its 10 victories this season.
About the Thunderbirds: Iola-Scandinavia remained undefeated with a 42-6 win over Coleman in a Level 2 game last week. I-S put up 36 points in the first half to make quick work of Coleman. Bryce Huettner had 147 yards and three touchdowns, and quarterback Connor Kurki added 64 yards rushing and 103 yards passing for the T-Birds. Huettner has rushed for 2,120 yards and 33 touchdowns, and Kurki has 18 rushing touchdowns and seven passing TDs this season. I-S has held opponents to one touchdown or less in seven of its 11 games, including three shutouts.
From Abbotsford coach Jacob Knapmiller: "Iola is as good of a team as we have played in a long time. They have weapons everywhere and strength, size and speed. We need to have some offensive consistency and slow them up defensively. They haven't been tested on defense other than maybe Amherst, so we are hoping to play well on that side of the ball. We simply cannot make mistakes and hope to stay with them."
—
Division 7
Loyal Greyhounds (9-2) at Edgar Wildcats (11-0)
When and where: Friday, Nov. 2, 7 p.m. at Edgar High School.
About the Wildcats: Edgar remained undefeated with a 36-0 win over Clear Lake on Oct. 26. Will Raatz scored three touchdowns and had 94 yards rushing for the Wildcats. Edgar has five players with at least 225 yards rushing this season, including quarterback Karson Butt, who also has 1,089 yards passing and 11 touchdown throws. The shutout last week was Edgar's seventh in 11 games this season.
About the Greyhounds: Loyal pulled off a 24-17 win over Gilman in a Level 2 game last Friday. A 2-yard run by Stephen Buchanan and a subsequent two-point conversion with 30 seconds to go turned a 17-16 deficit into a seven-point victory. Buchanan finished with 126 yards rushing and Matt Szymanski added another 77 yards as Loyal ran for 262 yards in total.
From Loyal coach Chris Lindner: "A main key for us is not to make mistakes. We need to play a clean consistent game with no turnovers and no penalties. We need to be able to pressure their QB and not to give up the big play. We also need to tackle well because their backs are very shifty."
—
Division 7
Pittsville Panthers (10-1) at Reedsville Panthers (10-1)
When and where: Friday, Nov. 2, 7 p.m. at Reedsville High School.
About Pittsville: Pittsville avenged its only loss of the season with a 17-7 victory at Almond-Bancroft in a Level 2 game Oct. 26. Beau Merritt ran for 179 yards and Sam Hardinger added 62 yards on the ground and both touchdowns in the victory for the Panthers. Pittsville held A-B to 32 yards rushing and picked off three passes.
About Reedsville:Reedsville also grabbed a road win last week, topping Hilbert 31-14 on the strength of a 19-0 fourth quarter. Brandon Stelzer ran for 167 yards and two touchdowns, both coming in the fourth-quarter comeback. Quarterback Carson Schanilec added 99 yards rushing and a touchdown, and threw for 164 yards and another score. Schanilec has 910 yards passing and 621 yards rushing for the Panthers this season. Stelzer tops Reedsville with 1,407 yards rushing and 19 TDs.
From Pittsville coach Mark Denniston: "Our guys enjoyed the win over Almond-Bancroft, but on Monday they came to practice focused on Reedsville. Reedsville is very big up front, so we will need to be physical on both sides of the ball. We have played some other teams this year that were much bigger than us, so our guys know the approach they need to take."
Paul Lecker is publisher of MarshfieldAreaSports.com and a contributor to focusonmarshfield.com.