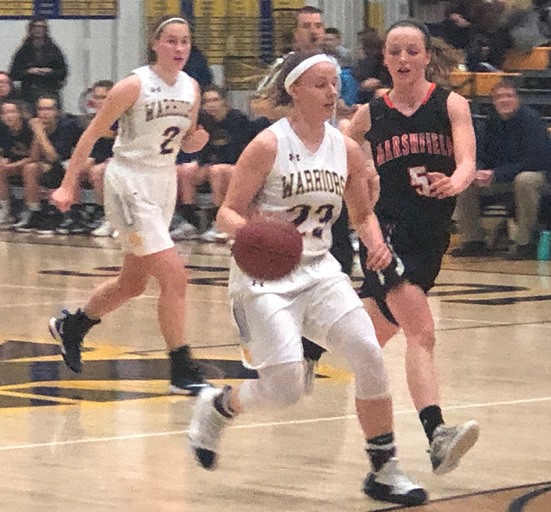 By Tim Johnson
For OnFocus
WAUSAU – Wausau West had its second-lowest point total of the season Friday, but generated enough offense to advance in the postseason.
Maddie Schires had 20 points and the Warriors went 10-for-12 from the free throw line over the final 2 minutes, 52 seconds of regulation to down Marshfield 54-44 in a WIAA Division 1 girls basketball regional semifinal at West High School.
West had just two field goals over the final nine minutes of regulation and did not hit a 3-pointer – a rare off-night for a team which had averaged more than 70 points a game during the regular season. Warriors coach Tom Weinkauf said the end result is what matters.
"Regardless of the score, I'll take the 'W' any time," Weinkauf said. "We didn't execute very well offensively and (Marshfield) had a lot to do with it. They kept switching their defenses and we didn't adjust very well. But we hung in there and made our free throws."
The seventh-seeded Warriors advanced to Saturday's regional title game against two-time defending state champion and No. 2 seed Appleton North. The Warriors (18-4) have reached the regional final for the second straight year and have won three straight games and eight of nine overall.
"It's going to be tough but you have to beat everyone to get to (state). We're excited for the challenge," said Schires, who hit all eight of her free throw attempts in the win.
West's Kadie Deaton and Tess Hauer added 11 and 10 points, respectively, and the two seniors combined to score 17 points in the second half.
Kadie Johnson and Jenna Jakobi both had 15 points, and Paige Preston added 10 for the 10th-seeded Tigers, who finish the season with a 10-13 mark.
Marshfield trailed by 11 points early in the second half and never got closer than three points the rest of the way. The Tigers had just one field goal in the final 3:30 of regulation, a jump shot by Jakobi – the team's only senior – in the final minute of play.
West and Marshfield split a pair of Wisconsin Valley Conference regular season games and the Tigers picked up a road win on Feb. 8 by four points. Sophomore Maddie Michaelis had a team-high 24 points in that game and was held to just one field goal on Friday.
"They really shut her down tonight" Marshfield's first-year coach Taylor Varsho said. "(West) has five seniors that start and they're a good ballclub that's very well-coached. They came ready to play tonight, had a game plan going in and at the end of the day, we just came up short."
Marshfield shot 50 percent from the floor and scored 44 points in the second half in the win over West, and Schires said the Warriors were a different team on Friday
"The big thing was our execution and energy," Schires said. "They had more energy last time when they beat us but (tonight) was a playoff game and you go all out."
The Warriors led by three points at the break and scored on their first six possessions of the second half to build a 33-22 lead with 15 minutes left in regulation. Deaton had half of the production in the Warriors 12-point outburst.
"We knew we needed to come out strong and that (Marshfield) wasn't going to give up," Schires said. "We wanted to come out fast and it worked for us."
The Tigers answered with eight-straight points, but West responded with eight of the next 12. Johnson hit a pair of 3-pointers to bring Marshfield to within 45-42 with 3:30 left before the Tigers offense went cold down the stretch.
"I think that except for the first couple minutes (of regulation) we were playing from behind," Varsho said. "Part of it is preparing players for this moment. I'm playing sophomores and (West) is a veteran team that has been through this experience many times. Two weeks ago we were on … but tonight we just weren't hitting our outside shots and didn't get enough touches for (Michaelis)."
The Warriors' execution at the free throw line down the stretch is a reason why they are moving on in the postseason.
"A big thing was us getting to the rim, especially with some of their key players in foul trouble," Schires said. "We can hit free throws and knew that it would come down to that."
Warriors 54, Tigers 44
Marshfield 18 26 – 44
Wausau West 21 33 – 54
MARSHFIELD (44): Maddie Michaelis 1-9 0-2 2, Kaydee Johnson 5-14 2-2 15, Desirae Weisenberger 1-1 0-0 2, Quincy Lang 0-1 0-0 0, Paige Preston 4-7 2-2 10, Brooklyn Boushack 0-3 0-0 0, Jenna Jakobi 7-13 1-2 15. FG: 18-48. FT: 5-8. 3-pointers: 3-17 (Johnson 3-10, Lang 0-1, Michaelis 0-6). Rebounds: 21 (Michaelis 4, Johnson 4, Boushack 4, Jakobi 4). Turnovers: 14. Fouls: 17. Fouled out: none. Record: 10-13.
WAUSAU WEST (54): Kadie Deaton 3-7 5-6 11, Kiley Deaton 1-3 4-7 6, Anna Cunningham 3-3 1-2 7, Shpresa Shabani 0-0 0-0 0, Maddie Schires 6-12 8-8 20, Tess Hauer 5-11 0-2 10, Grace Michalske 0-0 0-0 0. FG: 18-37. FT: 19-24. 3-pointers: 0-4 (Schires 0-3, Ka. Deaton 0-1). Rebounds: 26 (Ka. Deaton 7). Turnovers: 14. Fouls: 14. Fouled out: none. Record: 18-4.