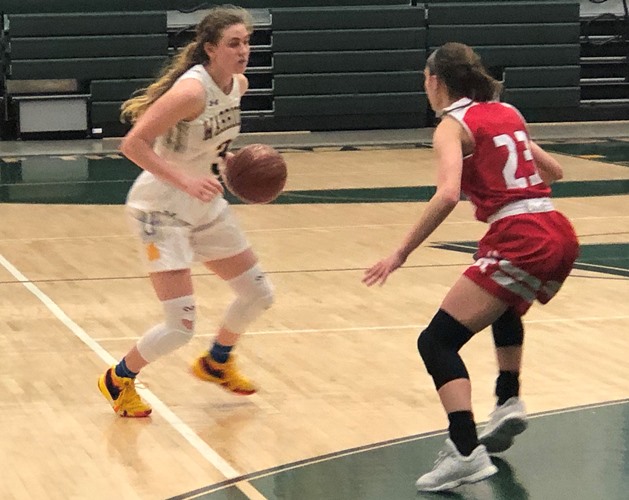 By Tim Johnson
For OnFocus
WESTON – Wausau West's postseason run at the expense of the Fox Valley Association came to an end in heart-breaking fashion Saturday afternoon.
The Warriors committed a turnover with 6.4 seconds left on a possession in which they could have tied the score or grabbed their first lead since midway through the first half against Kimberly, the third straight FVA opponent they have faced in the WIAA girls basketball tournament. Two free throws by the Papermakers' Shea Dechant iced the Division 1 sectional final as West's Tess Hauer's basket just made the final score closer as time ran out in Kimberly's 62-60 victory at D.C. Everest.
"There were a number of times today where we could have rolled over when we got down by big margins but (the players) just kept battling back," said West coach Tom Weinkauf, whose team trailed by 12 points less than two minutes into the second half. "We got it to a one-possession game and it just didn't go our way."
Maddie Schires and Kadie Deaton had 23 and 22 points, respectively, for the Warriors, who fell just short of the program's first state appearance since 2010. Hauer finished with nine points and surpassed 1,000 career points in the first half to join Deaton and Schires as Warriors players who have hit that milestone over the past two seasons.
Maddie Schreiber had 15 points and Dechant and Marissa Murray added 14 and 12 points, respectively, for balanced-Papermakers team which last won a sectional title in 2014. Taylor Hietpas and Kennedy Litvinoff both added nine points.
"They have so many weapons that you can't cheat on anybody (defensively)," Weinkauf said of the top-seeded Papermakers. "They had (eight) 3-pointers and they had a lot of different people make them. They go about eight or nine deep and every one of them is a good player and they are well-coached. It's hard to try and stop everybody."
Seventh-seeded West reached the sectional title game by knocking off two of the top three teams in the Fox Valley Association – Appleton North and Appleton East – in a regional final and sectional semifinal, respectively. But the Warriors' success ran out against the league champions.
"I'm super proud," Deaton said. "(People) didn't think that we would compete against the Fox Valley (schools) and we felt somewhat disrespected. But we showed that we can compete and only losing by two (points) really proved that the Wisconsin Valley Conference is better than what they say we are. Seeding is what it is (for the postseason) but it really gave us that underdog mentality to get some upsets and really go on a run."
Kimberly led 38-32 at the break and scored on its first three possessions of the second half. A 3-pointer by Sikora gave the Papermakers their biggest lead of the game at 46-34 with 16 minutes left in regulation.
West responded with a 12-0 – a run in which Deaton and her younger sister, Kiley, combined for 10 points – to tie the game with 46-46 with 12:34 left. Sikora hit another 3-pointer from the right wing to snap a 50-50 tie with under nine minutes left, which started a 7-0 run.
"Studying film we knew they were going to shoot (3-pointers), Hauer said. "We practiced getting over the screens that they set inside to get (shooters) open. There were a few (shot attempts) that we didn't get out to and it really swung the momentum of the game."
Schires got a steal and a breakaway layup to bring the Warriors to within 59-58 with 80 seconds left but that is as close as the Warriors would come.
Dechant went to foul line with 26.9 seconds left and hit the first of two free throws. She missed the second coming out of a timeout, giving the Warriors a chance to tie or grab the lead. West tried to work the ball inside and after a deflection, Dechant ended up with the loose ball.
"We were trying to backdoor them and maybe get some curl cuts in there," Deaton said on the final possession. "But they're a good team and they shut us down.
The ending didn't go West's way but Weinkauf said it doesn't take away from what his team accomplished.
"Today was a microcosm of the way this group is," Weinkauf said. "They got down but didn't quit. We played a hell of a game and had a heck of a season. We came up a little short but they have nothing to hang their heads about."
Papermakers 62, Warriors 60
Kimberly 38 24 – 62
Wausau West 32 28 – 60
KIMBERLY (62): Taylor Hietpas 9, Kennedy Litvinoff 3, Bryn Sikora 9, Shea Dechant 14, Marissa Murray 12, Maddy Schreiber 15. FG: 24. FT: 6-10. 3-pointers: 8 (Sikora 3, Schreiber 2, Hietpas, Litvinoff, Dechant). Record: 23-3.
WAUSAU WEST (60): Kadie Deaton 23, Kiley Deaton 4, Anna Cunningham 2, Maddie Schires 23, Tess Hauer 9. FG: 23. FT: 14-18. 3-pointers: 3 (Ka. Deaton, Ki. Deaton, Schires). Record: 20-6.