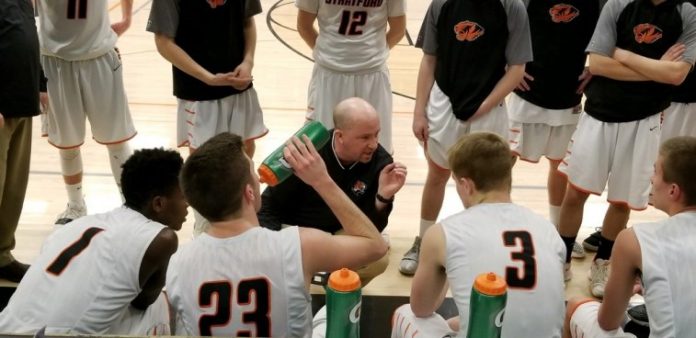 By Steve Pilz
For OnFocus
STRATFORD – The Stratford Tigers put a cap on an undefeated Marawood Conference South Division championship by downing the visiting Auburndale Apaches 67-57 on Thursday night at Stratford High School.
It's the first Marawood Conference championship for the Tigers since 2006 as they run their season record to 21-0. They were 16-0 in the conference and have one game remaining on their regular-season schedule, a nonconference game at Spencer at 3 p.m. Saturday.
With the conference title sewed up, you could've expected the Tigers to ease into their final conference game. Just the opposite. Stratford's Chandler Schmidt drilled three of his first four 3-point attempts to open the game and the Tigers were off and running, or at least shooting, blasting to a 20-2 lead.
Auburndale's Cooper Weinfurter made a pair of free throws at the 13-minute mark as the Apaches missed their first six shots. In fact, their first hoop came at the 10:29 mark in the first half, again by Weinfurter.
Schmidt finished with 11 first-half points and Teddy Redman added 10 as the Tigers went to the locker room up 42-25 after 18 minutes.
"Part of the problem in the first half were our turnovers," said Auburndale coach Chad Weinfurter. "They shot it well. Give them credit for that. Our goal was to take away their inside game and we did a good job of that. But, we need effort from the get go. With Vaughn (Breit) out in the second half (with foul trouble) we were able to spread them out a little bit and get good looks. They're a fantastic team."
After shooting over 50 percent in the first half, the Tigers came back to earth and the Apaches took advantage, especially with Breit on the bench due to foul trouble.
That, and the Tigers couldn't convert from the charity stripe, missing their first six attempts in the second half. Auburndale got all the way back to 57-53 with 1:43 left in the game.
Okley Wrensch made his final five free throws and Redman made his last six to stave off a valiant comeback attempt from the Apaches (17-4, 12-3 Marawood South). Auburndale shot just 4-for-28 from the 3-point arc, sealing their fate.
"We shot really well to start the game," said Tigers coach Curt Schmidt, "We had a big lead. We had two starters go down in the second half, Vaughn (Breit) to foul trouble and Lance (Heidman to injury.) We did get some big minutes from some other guys though.
"We battled. Proud of the kids to pull it off. We got tired playing short-handed. They were able to gang up on Ben (Barten) with Breit out. Great effort. Auburndale's very good. They're quick. Good on defense. They're a No. 1 seed in (Division) 4 for a reason."
Hunter Wright had 18 points, Cooper Weinfurter finished with 16 after making all 12 of his free throw attempts, and Colton Wright had 11 points and 12 rebounds for the Apaches.
Redman led Stratford with 16 points.
Auburndale will wrap up its regular season and Marawood South schedule at home Saturday against Marathon.
Both Stratford and Auburndale will host WIAA regional semifinals next Friday, March 1, against yet to be determined opponents.
Tigers 67, Apaches 57
Auburndale 25 32 – 57
Stratford 42 25 – 67
AUBURNDALE (57): Cooper Weinfurter 2-10 12-12 16, Paul Kollross 0-0 1-4 1, Hunter Wright 7-11 3-5 18, Fletcher Raab 1-6 1-2 4, Carter Wilcott 1-8 2-2 5, Aaron Marth 1-1 0-0 2, Colton Wright 5-15 0-0 11. FG: 17-51. 3-pointers: 4-28 (H. Wright 1-3, Wilcott 1-5, Raab 1-6, C. Wright 1-9, Weinfurter 0-5). FT: 19-25. Turnovers: 8. Rebounds: 30 (C. Wright 12). Record: 17-4, 12-3 Marawood South.
STRATFORD (67): Teddy Redman 4-6 6-7 16, Okley Wrensch 2-9 5-6 10, Dawson Danen 4-4 0-0 9, Chandler Schmidt 5-9 0-2 14, Branden Ackley 1-3 0-0 2, Vaughn Breit 1-5 0-0 2, Lance Heidmann 0-3 0-0 0, Ben Barten 7-12 0-3 14. FG: 24-52. 3-pointers: 8-21 (Schmidt 4-8, Redman 2-2, Danen 1-1, Wrensch 1-6, Ackley 0-1, Heidmann 0-3). FT: 11-18. Turnovers: 11. Rebounds: 31 (Barten 9). Record: 21-0, 16-0 Marawood South.
Steve Pilz writes for MarshfieldAreaSports.com, a contributor to onfocus.news/sports.