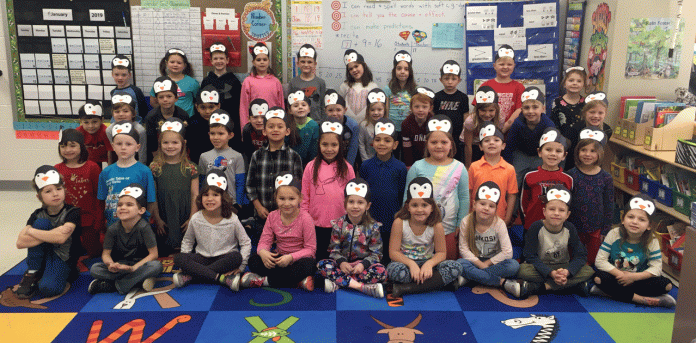 Rocket News – The first graders are working hard and making great progress! Thank you parents, for helping your child with reading, word cards, spelling, and math skills. Your child will continue to show academic gains when you spend time with him/her.
This winter we are taking a pretend trip to Antarctica! We read stories and poems about penguins. Students made measuring strips and strings of different penguin heights and used them to order and compare the numbers and find differences. To review & finish our penguin studies, we treated ourselves to some fun with penguin-style egg races! We even wore penguin hats – see our class picture!
The first graders also enjoy learning about people from our country's past. We will read stories and make some projects to honor and learn about Martin Luther King, Abraham Lincoln, and George Washington. We will make hats to wear to lunch on each of the presidents' birthdays!
The first graders have many opportunities to learn at their individual levels in reading and math through our computerized "Compass Learning" program, "Daily Five" literacy centers, and "Team Intervention" groups.
February also brings us fun things to do for Groundhog Day, Valentine's Day, and the 100th Day of School. The first graders will be using skip counting skills that they have learned in math to complete 100th Day activities. A favorite is the Fruit Loop Necklace we make with 100 Fruit Loops —YUMMY!

Submitted by the first grade teachers
-Mrs. Kolstad, Mrs. Pankratz, and Mrs. Zuelke