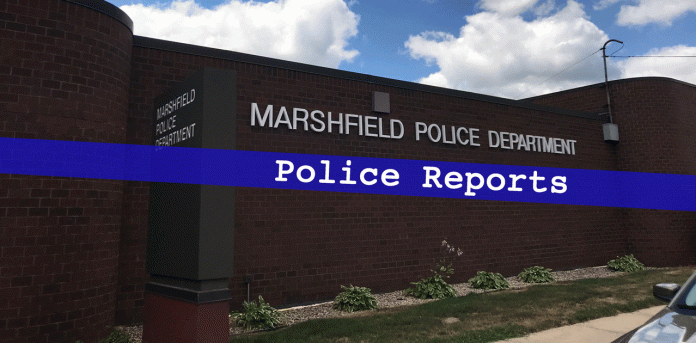 Marshfield Police Department Police Reports
2.28.19 at 2108: A traffic stop was conducted. The driver, 42 year-old Marshfield male was taken into custody for possession of THC as well as bail jumping after K9 Rika indicated. An unloaded Smith & Wesson handgun was located in the rear of the vehicle and was taken for safekeeping.
2.27.19 at 2309: A 45 year-old Marshfield male reported that he was physically assaulted by his roommate, a 33 year-old Marshfield male. The complainant also advised dispatch the 33 year-old male poured water on his bed and some of his property. After speaking with the complainant and investigating further, the 33 year-old male was taken into custody for domestic related battery.
2.27.19 at 2300: Complainant reported that the front bumper cover was broken off her vehicle. In looking at the bumper it did not appear to be damaged but that it was removed of just loose from the connectors. Complainant was adamant that it was damaged. Officer spoke with a mechanic who worked on the vehicle and he said the plastic bumper cover did not look connected or right while he changed the alternator. Complainant suggested there are ongoing disputes within the residence. At this time extra patrol is requested.
2.27.19 at 1507 (reported): The complainant reported discovering an 18 year-old Marshfield male was communicating with her 11 year-old daughter on Snapchat. Although the exchanged images were not viewable, the written messages did not indicate a violation of the law. The complainant messaged the male to advise him not to have contact with her daughter and is also addressing the matter with her daughter. Officer advised the complainant he would file this informational report and asked her to contact him if there is a future contact.
2.27.19 at 1505: A capias was issued to a 16 year-old Marshfield male for a mandatory appearance at Marshfield Municipal Court. The male was taken into custody at his residence and brought to Marshfield Municipal court without incident. He was released to his mother and the court.
2.27.19 at 1230: Complainant reported that a 68 year-old Marshfield male was found unresponsive in the backyard of the listed location. EMS arrived on scene and attempted to perform life-saving measures and transported the male to MMC, where he was later pronounced deceased.
2.24.19 at 0113: During a tavern check an officer recognized a male in the bar who was drinking alcohol. The subject was on a no-drink through probation and was taken into custody. During a search of his person three separate baggies of suspect cocaine were found. He then later resisted officers as well and refused to cooperate with booking. The male was ultimately transported to the Wood County Jail.
2.24.19 at 0200: A 25 year-old Marshfield male broke a window at Elixir Night Club. Charges will be requested for criminal damage to property. Investigation to continue.
2.13.19 at 0830 (reported 2/24): Walmart Loss Prevention called to report a 36 year-old Stevens Point male has been suspected of ticket switching when checking out at the self-checkout lanes. They were able to view video footage of the male ticket switching at the checkout lanes. Officer had Stevens Point PD attempt contact but he has not been located as of this time. The male also has several warrants for his arrest. Officer will be requesting charges through the MNSO D.A.'s office for retail theft and habitual criminality.
2.22.19 at 1300 (reported): The manager for the listed business called to report the business receiving several phone calls from a 34 year-old Granton man. The man was calling regarding a female intern he wanted to make contact with. The man was contacted and gave the reason for the calls was due to him wanting to ask the intern if she was single. The man was instructed to not call the business and that the behavior of calling the employer of a person he does not actually know to ask if they are single or to show interest in is not typically how someone begins a friendship. The man apologized and now realizes the unwanted behavior. The intern was informed of the situation. No further action needed.