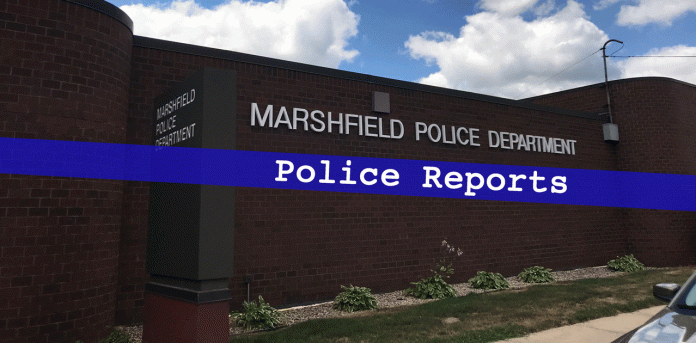 Marshfield Police Department Police Reports
2.11.19 at 2243: Officers were dispatched for a loud music complaint. An odor of marijuana was detected and a 21 year-old Marshfield male was subsequently arrested. The male was transported to the Marshfield Police Department for booking procedures and eventually Wood County Jail. Charges will be requested through the Wood County District Attorney's Office.
2.11.19 at 1330: A Chili woman reported that her former boyfriend, a 35 year-old Marshfield man, attempted to strike her with his vehicle. The man was taken into custody for disorderly conduct and violation of a restraining order. The man was transported to the Wood County Jail and charges are being requested through the Wood County District Attorney's Office.
2.10.19 at 0001: Elixir called to report a disturbance. Upon arrival police learned a 33 year-old Marshfield male came into the establishment and punched a 48 year-old Wisconsin Rapids male in the head. The 48 year-old did not wish to pursue any charges. The 33 year-old was told to leave.
2.09.19 at 900: A 42 year-old Marshfield female reported that she was struck on the left side of the face by a coworker, a 17 year-old Marshfield female. She advised that the strike did cause her pain. The suspect was contacted and agreed to meet at the Marshfield Police Department. At that time she was interviewed and placed under arrest. Booking procedures were completed and the subject was released after meeting the requirements of the Misdemeanor Bond Screening Form. Charges are being requested through the Wood County District Attorney's Office.
2.08.19 at 2200: Complainant called 911 advising she was involved in a physical altercation with her husband and that he had dumped water on her head. After further investigation, a 38 year-old Marshfield male was placed into custody for domestic abuse related battery and 4th degree sexual assault. The 38 year old male was transported to the Wood County Jail and was later released on bond.
2.08.19 at 1642: A convenience store manager called to report the theft of one bottle of liquor from the previous day. Upon reviewing video surveillance it was shown that the 29 year-old rural Marshfield male had concealed the item and left the store without rendering payment. The suspect was identified and mailed a citation for retails theft. Additionally, the man has four open Marathon County cases with restrictions for the suspect to not possess/consume/purchase alcohol products. Due to this the suspect will be referred to Marathon County District Attorney's Office for misdemeanor bail jumping.
2.08.19 at 1627: Complainant reported that a 93 year-old Marshfield female was found unresponsive at the listed location. The female showed no signs of life and was cold to the touch. The Wood County Coroner was contacted and arrangement were made with Rembs Funeral Home who took custody of the female.
2.05.19 at 816: A 34 year-old Stratford woman reported her husband sent her a text message. Officer took photograph of the text message and uploaded it to Evidence.com. She stated that she does have an Injunction-Harassment order against the man. After reviewing the order, officer determined the text message was not harassing in nature. She also reported that her husband showed up at her residence in Stratford which is a clear violation of the Injunction Order. Officer encouraged her to report incident to the Stratford Police Department or Marathon County Sheriff's Department. She agreed to do so. Officer made contact with the man and advised him to cease and desist all contact with her, other than his attorney, and he stated he would comply.