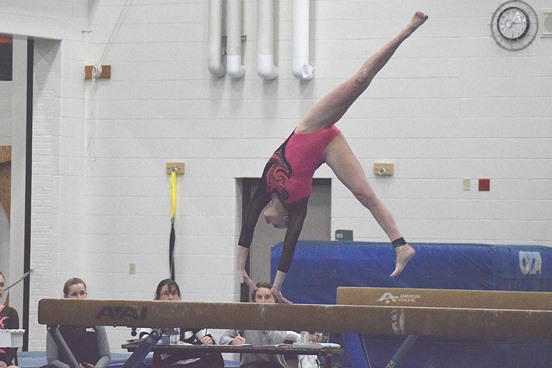 By Paul Lecker
MarshfieldAreaSports.com
The Marshfield gymnastics program has participated in the WIAA State Gymnastics Championships before, but this year is different.
Marshfield took 19th place in 1973 and 12th in 1974 – the only two times the Tigers have been to the state meet – but at that time, a team didn't have to qualify to get to the state meet. This year, the Tigers earned it.
Marshfield finished second at last week's Division 1 sectional at Chippewa Falls with a team score of 136.4, edging rival Stevens Point by less than one point.
The team portion of the two-day state meet will begin at 2 p.m. Friday. Marshfield will also have two participants in the individual meet on Saturday, which begins at 11:30 a.m.
Junior Gracie Holland will compete in the all-around and senior Emma Haugen will be making her third state appearance after placing third in the vault at the sectional with a score of 9.2. Haugen participated at state in the vault as a freshman, and the all-around as a sophomore.
Holland has been a force all season for the Tigers, and last Saturday at the sectional was no different.
Holland won the all-around with a score of 37.125, finishing first in the uneven bars (9.65) and the vault (9.6), second in the balance beam (8.7), and tied for fifth in the floor exercise (9.175) to led the way for Marshfield, the co-champions of the Great Northern Conference Large Division.
There are three former champions seeking additional titles in the Division 1 field. Senior Alexis Woida of Arrowhead is the returning champion in the all-around. Senior Krystal Nelson of the Franklin Co-op has sights on retaining the title she won last season on the uneven bars. Junior Lexi Penney of Brookfield East/Central looks to return to the championship form in the balance beam. She won the event in 2017 and placed fourth a year ago.
Franklin/Muskego/Oak Creek/Whitnall Co-op won its third consecutive Division 1 team championship with a team score of 147.8333 at last year's Division 1 team meet.
2019 WIAA State Gymnastics Championships
March 1-2, at Wisconsin Rapids Lincoln High School
Friday, March 1 – Team Competition
March-in, 1:45 p.m.
Competition begins, 2 p.m.
Approximate conclusion of awards presentation, 7:30 p.m.
Saturday, March 2 – Individual Competition
March-in, 11:15 a.m.
Competition begins, 11:30 a.m.
Approximate conclusion of awards presentation, 5:15 p.m.