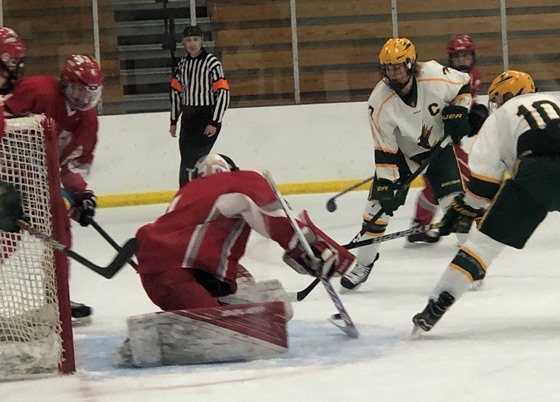 By Tim Johnson
For OnFocus
WESTON – Ty Tretter was one of the key players for a D.C. Everest boys hockey team that made the deepest postseason run in the program's history a year ago.
Now he is a senior leader who is trying to help a different-looking Evergreens team recapture that playoff magic.
The veteran forward had a goal and an assist as Everest took the first step Thursday with a 3-2 win over Wisconsin Rapids in a WIAA regional final at Greenheck Field House.
"We lost a big senior class and have a lot of guys who didn't play a ton last year," Tretter said. "It's great to have guys starting to perform and playing at their peak. It's a good time for it."
It was the third-straight year D.C. Everest has beat Wisconsin Rapids in the regional round of the tournament. The Evergreens edged the Raiders by a goal in each of the previous two playoff matchups. Everest beat Rapids 6-1 in the first week of January at Greenheck in the only regular-season matchup between the two Wisconsin Valley Conference foes this year.
D.C. Everest faces top-seeded Wausau West in Tuesday's sectional semifinal at Marathon Park. Tretter had the game-winning goal in the second overtime against the Warriors in the same round last year, which helped propel the Evergreens to a first-ever state tournament appearance.
"I love playing there and I know all of our guys do," Tretter said of Marathon Park. "We always have good, competitive games there. It's a small rink and there's a lot of noise. It will be a fun one to be part of once again."
Colton Flammini had both of Rapids' goals in the second period as the Raiders, who trailed 2-0 after the opening period, closed to within a goal. The senior, who had 12 goals over the past five games, was credited with a goal with 35.6 seconds left in the period on a shot, which deflected off the skate of an Everest defenseman and past Evergreens goalie Ethan Hurt.
The Raiders, who were riding a three-game winning streak, had a few strong scoring chances early in the third period, including a breakaway by Myles Auclair, but were outshot 13-5 in the period.
"We felt really good (going into the third) and had put ourselves in a nice position," Rapids coach Pat McDonald said. "It was just a matter of going out and getting that equalizer. We had some opportunities and a breakaway and just couldn't capitalize. I thought both teams had opportunities in the third period and both goalies played well. It just wasn't in the cards tonight."
Everest had dropped its final five games of the regular season, but jumped out to a 2-0 lead in the first period. Tretter scored on the power-play just over five minutes into regulation and then assisted on Justin Jakubek's goal 61 seconds later.
"We saw an energy today that we haven't seen in a while," Everest coach Dan VanSlyke said. "It was good to see our guys come out and compete right away at the beginning of the game and play with some enthusiasm again."
The Evergreens had a 17-8 shots on net advantage in the first period.
"Normally we aren't a first-period team," Tretter said. "We haven't been playing very well in the first period and that's always our message – go one period at a time. We knew that if we came out strong in the first period (tonight) we would have a good shot at winning."
Evergreens 3, Raiders 2
Wisconsin Rapids 0 2 0 – 2
D.C. Everest 2 1 0 – 3
First period: 1. DCE, Ty Tretter (Justin Jakubek), 5:06 (pp). 2. DCE, Jakubek (Tretter, Grant Oertel), 6:07.
Second period: 3. WR, Colton Flammini (Myles Auclair, Harley Sanders), 6:44. 4. DCE, Colby Schmitt (Brady Bunnell, Brandon Jilek), 9:30. 5. WR, Flammini (Auclair, Spencer Sparks), 16:25.
Saves: WR, Torger Stachurski 15-12-13-30; DCE, Ethan Hurt 8-10-5-23.
Records: D.C. Everest 8-13-1, Wisconsin Rapids 11-13.