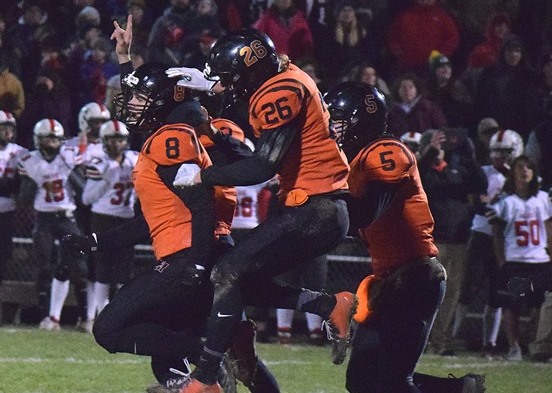 By Paul Lecker
For focusonmarshfield.com
MARSHFIELD – The outcome of the final varsity football game at Beell Stadium came down to the final play.
Marshfield senior kicker Mason Coffren, who missed a 23-yard field goal earlier in the game, came through in the clutch, drilling a 25-yard field goal as the clock hit zeroes to lift the Tigers to a thrilling 32-29 win over Pulaski in a WIAA Division 2 Level 3 state quarterfinal on Friday night.
Click here to watch the winning field goal.
Coffren, who also made a game-winner on the final play of the game earlier this season against Kaukauna, made the field goal to cap a 15-play, 58-yard drive to chewed up the final 5:59 on the clock and sends Marshfield into the Division 2 state semifinals.
The Tigers (12-0) will take on Mequon Homestead (12-0) at 7 p.m. Friday, Nov. 9, at Calder Stadium in Menasha.
[pro_ad_display_adzone id="10578"]
Coffren said the final kick came down to concentration and not making the same mistake he made on his miss in the second quarter.
"I kind of thought our offense is good enough to get it down there so it (the kick) wouldn't be as long," Coffren said. "Either they were going to score a touchdown or I have to make a 25-yarder. I was kicking on the net, and I just needed to focus on putting my head down and locking my toe out so I didn't spin over it like I did on the first one. I adjusted it on the PATs (after the miss) and I thought I had it locked down."
Marshfield head coach Denny Goettl said he felt confident in the senior kicker, who has come through multiple times this season for the Tigers.
"I said, 'You're going to get a chance to win this game for us, after he missed that one,'" Goettl said. "You just say that. It might not ever happen, but you say it. You can't explain it, the very last game at Beell, we get a win. Last play, last one at Beell."
[pro_ad_display_adzone id="10578"]
Marshfield trailed 29-22 after a 2-yard touchdown run by Pulaski's Dylan Hendricks, who was a one-man wrecking ball for the Raiders.
The senior quarterback ran 51 times for 369 yards and all four Raiders' touchdowns. He finishes the season with an astounding 2,837 yards rushing and 32 touchdowns.
Henricks' final score came with 9:16 remaining in the game and put Pulaski on top 29-22.
Marshfield responded quickly, needing just five plays to go 85 yards to tie up the score.
Brant Bohman, who rushed for a team-high 139 yards, had runs of 12 and 2 yards. After an incomplete pass, quarterback Ryan Krueger sprinted up the middle for apparent 71-yard touchdown run, but an illegal block penalty turned it into a 27-yard gain. It didn't matter as Bohman raced 53 yards on the next play and Coffren added the extra point to knot the score at 29-29.
"We have big players that make big plays, and they did," Goettl said. "Brant, when he turns it on, finds a seem, he's flying. They stuck in there, hung in there. A close game, battle-tested, and you hope you keep your wits about you and come through in those big games."
Marshfield finally found a way to stop Hendricks on the Raiders' next possession. After two runs netted 12 yards and a first down, the Tigers' defense stopped him to runs of 3 and 1 yards, and an incomplete pass before a punt.
"We knew that Dylan Hendricks was going to be a really good rusher," Coffren said. "He's a helluva player, he's a big kid. We knew we had to stop and if we did that, we'd be successful and we did our job."
Marshfield took over on its own 42 and methodically drove down the field. The Tigers picked up three first downs on the drive, the final one on a 7-yard run around left end by Caden Pearce brought it down to the 10. Four plays later, Coffren kicked the game-winner to end it.
"We just have to get a first down and move the ball," Goettl said. "Give me five yards, who can we get going, who can hit it…Ryan was out there doing a great job. You put it in the hands of the kids to make the plays and when I wanted to get a first down, or I want to get some controlled yardage, I give it to Ryan and he'll keep it.
"We have a lot of weapons and it keeps showing up. We're having a lot of gosh darn fun. This is championship football. We're fortunate to beat a team like that at this level."
[p[pro_ad_display_adzone id="10578"]p>
Krueger finished with 102 yards on the ground and two touchdown, and he threw for 160 yards and another score – a 15-yarder to Bohman on the Tigers' first possession of the game.
Marshfield piled up 269 yards rushing and 429 total yards in the victory.
Tigers 32, Raiders 29
Pulaski 7 8 7 7 – 29
Marshfield 7 15 0 10 – 32
First Quarter
M – Brant Bohman 15 pass from Ryan Krueger (Mason Coffren kick), 9:01.
P – Dylan Hendricks 31 run (Alec Jonet kick), 5:27.
Second Quarter
M – Krueger 6 run (Preston Wagner pass from Krueger), 10:42.
P – Hendricks 4 run (Hendricks run), 9:31.
M – Krueger 1 run (Coffren kick), 0:13.
Third Quarter
P – Hendricks 68 run (Jonet kick), 8:11.
Fourth Quarter
P – Hendricks 2 run (Jonet kick), 9:16.
M – Bohman 53 run (Coffren kick), 8:05.
M – Coffren 25 field goal, 0:00.
Team Statistics
First downs: Pulaski 18; Marshfield 17.
Rushing (att-yards): P 57-392; M 43-269.
Passing (comp-att-yards-int): P 0-3-0-0; M 9-15-160-0.
Total yards: P 392; M 429.
Fumbles (total-lost): P 2-2; M 1-1.
Penalties (no.-yards): P 3-27; M 4-57.
Punting (att.-avg.): P 2-29.0; M 2-43.0.
Individual Statistics
Rushing: P, Dylan Hendricks 51-369, Alec Jonet 3-14, Bo Bramschreiber 1-5, J.J. Szymanski 1-4, Brock Egnarski 1-0. M, Brant Bohman 20-139, Ryan Krueger 19-102, Caden Pearce 3-25, Isaiah Baierl 1-3.
Passing: P, Hendricks 0-3-0-0. M, Krueger 9-15-160-0, Joey Goettl 0-1-0-0.
Receiving: P, none. M, Preston Wagner 3-70, Bohman 3-49, Isaac Meverden 3-41.
Fumble recoveries (defense): P, Nicholas Hanke. M, Alex Steines, Riley Boushack.
Punting: P, Logan Kobus 2-29.0. M, Krueger 2-43.0.
Records: Pulaski 10-2; Marshfield 12-0.