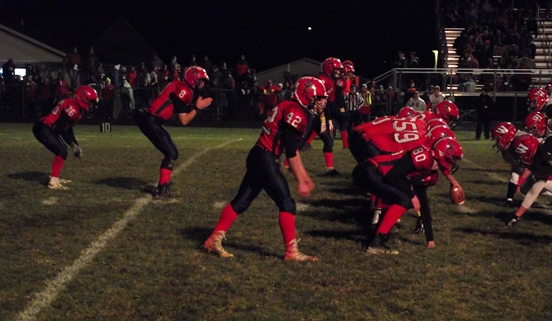 By Steve Pilz
For focusonmarshfield.com
SPENCER – Sometimes it's hard to predict a game's outcome when the teams play a half a state away ,but when a pair of 10-1 teams that are seeded No. 1 and No. 2 meet, you would assume it would be pretty close.
Friday's Division 5 Level 3 football playoff game at Spencer's Ted Fritsch Field did not disappoint.
The Westby Norsemen gave the Spencer/Columbus Catholic Rockets all they could handle and then some, falling 13-12 to send the Rockets to Level 4 where they'll take on Stratford for a state finals berth. The Tigers won 42-12 over top-seeded Kewaunee on Friday. The Rockets downed the Tigers 27-7 in the season opener at Spencer on Aug. 17.
The Norsemen proved, right off the bat, that they wouldn't be a pushover, striking for a 40-yard pass on the first play from scrimmage. That drive would halt eight plays later when Westby turned the ball over on fourth down.
The Rockets took over and had a nine-play drive, but it ended when Jarred Mandel tried to get a deep pass to Ethan Meece. Westby's Gunnar Hanson made an athletic interception of the 40-yard toss and the Norsemen had it at their own 4.
Westby took over at their own 26 near the end of the first quarter. Fifteen plays later quarterback Alex Gluch hit Dawson Marshall for an 11-yard touchdown pass. The kick failed but the Norsemen led 6-0.
[pro_ad_display_adzone id="10578"]
The Rockets answered right back.
Taking over at their own 34, the Rockets fumbled but got it right back.
Then SC turned to Hayden Bauman. Bauman caught a pass for 19 yards and carried four times for 19 more. His last carry was a three-yard burst for a touchdown, ending a nine-play, 66-yard drive. Evan Dieringer's kick was good and the Rockets had their first lead with 1:34 left in the half.
Westby tried to get something before the half but mistakenly went to Bauman's side, who promptly picked off the pass, but the Rockets stalled and the half ended at 7-6.
SC fumbled on the second play of the third quarter and the Norsemen capitalized six plays later when Ryan Daines crashed in from the 2 after a six-play drive that covered just 23 yards.
Mandel took advantage of good field position by ripping off 37 yards on two carries. Austin Bacon got two yards and Bauman did the rest going 19 for the go ahead score, making it 13-12, with 5:41 to go in the third.
"Hayden Bauman's a fantastic football player, who's playing the best football of his life right now," Spencer/Columbus coach Jason Gorst said. "It's a good time to be doing it."
Westby took over at their own 24 but five plays later, on third and 11, it was Bauman again, crashing in off the edge to force a fumble. Westby recovered, but they had to punt.
The Rockets took over late in the third quarter and went on an eleven-play drive that stretched into the fourth. The Rockets went for it on fourth down early in the fourth quarter but the pass was broken up, setting up a wild finish.
"Not everything went according to plan," Gorst said. "But the guys persevered and came through in clutch moments. Credit to Westby. They battled really tough and got some pretty big stops. We couldn't punch it in at the end. They're a good football team. Our guys were able to come through and make plays down the stretch."
[pro_ad_display_adzone id="10578"]
Neither team was able to score in the final quarter. Westby and the Rockets exchanged fumbles, and Westby was stopped on fourth down twice, the final time with 18 seconds left on the SC 18.
Mandel took a knee and the Rockets survived.
S/C had more turnovers and fewer yards than Westby, but the Norsemen were penalized nine times for 75 yards and the Rockets, clearly the more disciplined team, just three times for 24 yards.
"We've got a lot of work to do yet." said Gorst. "Stratford has worked hard all season too. I'm sure they've improved since the last time we saw them, as I hope we have. I'm sure it's going to be a heck of a game."
Rockets 13, Norsemen 12
Westby 0 6 6 0 – 12
Spencer/Columbus Catholic 0 7 6 0 – 13
Second Quarter
W – Dawson Marshall 11 pass from Alex Gluch (Kick failed) 6:34.
SC – Hayden Bauman 3 run (Evan Dieringer kick) 1:43.
Third Quarter
W – Ryan Daines 2 run (PAT failed) 7:54.
SC – Bauman 19 run (PAT failed) 5:41.
Team Statistics
First downs: W 10; S/C 13.
Rushing (att.-yards): W 32-139; S/C 35-181.
Passing (comp.-att.-yards- int.): W- 10-24-123-1; S/C 5-9-46-1.
Penalties (no.-yards): W 9-75; S/C 3-24.
Fumbles (total-lost): W 3-1; S/C 3/2.
Individual Statistics
Rushing: W, Daines 12-57, Gunnar Hanson 7-50, Gluch 7-21, Austin Mowery 2-9. S/C, Bauman 16-90, Austin Bacon 15-56, Jarred Mandel 9-55, Carson Hildebrandt 1-0.
Passing: W, Gluch 10-22-123-1. S/C, Mandel 5-9-46-1.
Receiving: W, Joe Armbruster 2-52, Davonte Spears 2-17, Sam Strangstalien 2-17, Daines 2-9, Nolan Rux 1-17, Marshall 1-11. S/C, Bauman 2-24, Bacon 2-14, Jacob Dick 1-16.
Fumble recoveries (defense): W, team, Marshall. S/C, Andres Rodriguez.
Interceptions (defense): W, Hanson. S/C, Bauman.
Records: Westby 10-2. Spencer/Columbus 11-1.
Steve Pilz is a writer for MarshfieldAreaSports.com, a contributor to focusonmarshfield.com.